We stand before the Green Doors knowing that we have turned our life around. We have reached out to a higher portion of ourselves and our consciousness is rising. We have learned that if we can observe our reactions to life, we can perceive them as a message from our unconscious self. Body symptoms, bad dreams, feelings of fear, as well as negative thinking and aberrant behaviors can be observed rather than lived.
Observation of our actions and reactions release us from denial and victimization. Our denial of, "I'm fine," and our victimization of, "I can't change it. It's not my fault," begin to fade when fault is transformed into "responsibility". This transformation releases guilt and shame to be replaced by a sense of empowerment.
Once we have gained a sense of personal power, our unconscious is no longer a dark and foreboding enemy, and we have enough ego strength to face our inner demons. The six Green Doors are before us so let's take a careful look at "conscious life in the third dimension".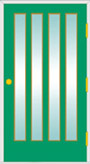 The first door is marked: PHYSICAL BODY
We knock.
As the door opens, a message is displayed:
More positive body sensations make it easier for our conscious mind to perceive cues about our hidden thoughts and emotions. These physical messages may not be understood yet, but we have a sense of well-being that encourages communication between our thoughts and emotions. Our body can feel better now and we do not wish to taint that feeling with excesses of food, alcohol, or drugs. Our immune system is healthier. This makes us feel more sociable and we seek the company of others.
 The second door is marked: EMOTIONS
We knock.
As the door opens, a message is displayed:
Our emotions create mental pictures that awaken our imagination and trigger memories that encourage further self-development. Positive emotions of love and well-being surface from behind our pain and fear as feelings of empowerment override the sense of being a victim. Gradually, we begin to take responsibility for our life. We observe our emotions as reactions to the external world and messages regarding the internal condition of our body and psyche. Love, more than fear, comes into our emotions now.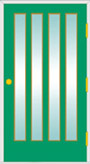 The third door is marked:THOUGHTS
We knock.
As the door opens, a message is displayed:
Our thoughts come into focus, as our self-talk becomes conscious. This ability allows us to take responsibility for our thoughts and we realize that we can choose the thoughts that we wish to dwell on in our minds. We learn that when we choose to think positive our self-confidence grows and our thinking shifts from problem-oriented to solution-oriented. Old core beliefs break down and we respond with new behavior rather than acting in old habitual ways. When we are no longer victims, we can respond rather than react because we think before we speak or take action.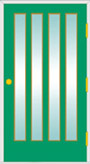 The fourth door is marked: BEHAVIOR
We knock.
As the door opens, a message is displayed:
Our behaviors are based on emotional needs and mental forethought as our reactions evolve into responses. Behaviors that are consciously initiated and completed give our conscious mind clues as to our true goals and desires. We can then seek out what we really want rather than what we "should" want or what other want for us. As past fear, pain, and negative programming is released, our behavior is appropriate to the situation rather than a projection from our fears. Therefore, we have more positive and successful experiences that builds our self-esteem. We learn to take responsibility for ALL our behavior, which is now more loving and unselfish.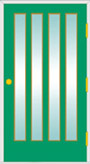 The fifth door is marked: DREAMS & ASPIRATIONS
We knock.
As the door opens, a message is displayed:
Our sleep is more regular now and our level of dreaming has shifted from the uncovering of negative feelings to rehearsing our next move in our everyday life. If we can maintain a higher stage of consciousness, we can even think of our "nightmares" as an opportunity to consciously clear feelings that we have repressed in the past. Often our rehearsal dreams will also assist in making us aware of thoughts and emotions that we are too busy to notice when we are awake.
As we keep our contract with ourselves to complete our mundane tasks in a timely manner, we feel better about ourselves. We begin to build a trust that we can dare to do more. This trust encourages us to connect with the aspirations that come to the surface of our consciousness via dreams, mental pictures, and emotional yearnings.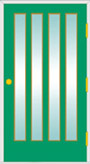 The sixth door is marked: SPIRITUAL GUIDANCE
We knock.
As the door opens, a message is displayed:
More balanced thoughts and feelings bring about a sense of deserving that allows spiritual feelings of grace and joy to grow. Because we can now connect with our fourth dimensional self, our instincts are keener and our creativity and inspirations have expanded. Our self-esteem grows as we begin to trust that we can keep ourselves above mere survival level. We are discovering ways to rise above, and move through, negative situations as our expanded communication with our multidimensional self awakens our need for love and deeply intimate relationships.
Our feelings of victimization have so diminished that we no longer hold judgment and anger against others or ourselves. We have begun to observe our body, emotions, thoughts and behaviors from a higher portion of our consciousness, which allows us to release our shame and take full responsibility for the life we have created. Our illusions have become our imagination and our spiritual guidance has become a portion of ourselves rather than a being that resides far away and high above.
WE ENTER THE CONSCIOUS TO TRANSFORM FEAR INTO LOVE