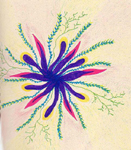 "Hello,"
I heard a voice say from somewhere inside of me, or was the voice external? I looked around the small room that I was sitting in. Yes, over there, off to the right there was a shadow, a slight movement, and a disturbance in the air.
"Hello again."
I heard the voice echo both inside and outside of me. Yes, now I understood. It was a fifth dimensional being flickering in and out of my third dimensional world. Actually the being was holding steady as fifth dimensional. It was my perception that was flickering, my perception and my consciousness.
It was happening more and more now. I would suddenly hear, or see, or feel something, or someone, that was not a part of my third, or even my fourth, dimensional reality. At first it was frightening because it was so different. Then my fear would pull me out of my higher consciousness and into my familiar physical world.
My fear acted like a braking system so that I would not go too fast. However, as my fifth dimensional experiences became more familiar, I was outgrowing my "brakes" and learning to NOT choose fear.
"Yes, dear one, you can perceive us now because you are becoming free of fear as well," spoke the voice off to my right.
I did not respond to the voice or even question its statement. Instead, I began to ponder a reality free of fear. How would that feel? How would that look? How could that be possible?
"We have remembered how to integrate our fear back into our light," spoke the voice that was now taking a shape. Actually, it was I who was changing rather than the voice. I had also learned that when I focused my attention onto my wavering fifth dimensional perceptions, they became clearer. Then it was my third dimensional world that would begin to flicker in and out.
"Yes, you are recalibrating," spoke the voice responding to my thoughts. They always did that, the fifth dimensional ones. They responded to my thoughts even when they were different from my words. I couldn't fool them or say what they wanted to hear, like I could in the physical world. They could look into my Soul. They could hear what I had not yet thought, or felt.
"Your Soul is here with us. Do you see it?" spoke the fifth dimensional voice.
Suddenly, the flicker disappeared and the wavering light-filled fifth dimensional room disappeared. Again I was in a world with harsh boundaries and hard edges. I tried to listen for the voice, but it was gone.
No, it was not the voice that was gone. I was gone—gone from that reality. I left it because I became afraid and the fear pulled my perceptions out of calibration. I knew that because it had happened before. In fact, it had happened EVERY time that the voice had asked me if I could see my Soul. Why? Why did the prospect of seeing my Soul frighten me?
I closed my eyes and took long slow breaths. I allowed myself to calm and to raise my consciousness so that I might again perceive the fifth dimension. Gradually, I felt the room around me begin to glow. I could feel the glow on my body and see it through my closed eyes. I felt the physical world as well, but it was in the background.
"Why does the prospect of seeing my Soul frighten me so?" I asked the voice. I held the question in my mind and focused on the spot to my right where I had first seen the flicker.
No answer.
I felt a rush of fear, fear of abandonment, and I almost lost my focus. Nevertheless, I was able to catch myself and breathe out the fear. It took a while to raise my consciousness again. I affirmed to myself that I would be patient and hold my vibration high. There is no time here, I reminded myself. Therefore, there is no hurry. I will wait for the answer—patiently.
Gradually, the flicker to my right became a light and the light became so brilliant that I had to refocus my consciousness in order to continue seeing it. The light expanded and filled the room—filled me. Then I felt my consciousness shoot up an octave or two and my physical world disappeared. Although I knew that it was still there, on another vibration.
Within the core of the light a form began to materialize into a shape—no into several shapes—no—into many shapes. It was like looking into a house of mirrors where one shape echoed itself again and again.
I started to become excited, but I knew I had to calm myself or I would lower my vibration. I had learned that excitement is a mild form of fear. I affirmed again that I wanted to know why I became frightened by the prospect of seeing my Soul. The first of the beings stepped towards me, then all the others moved just behind it. I gathered my courage and stepped towards them.
"I want to know the answer!" I spoke to the many.
"Do you deserve us?" they responded.
I felt the fear building again. The many before me began to blur and the brilliant light began to dim.
"No," I called. "I will not lose my focus."
I reached out towards the being closest to me.
"I DO DESERVE!!" I cried from my core. "I do deserve you—all of you. I am NOT afraid."
The being before me had grown too dim for me to see its face, but I could feel its smile. Then it took my hand, and I felt the echo of the many as they smiled and they took my hand as well.
"I do deserve
I do deserve
I do deserve,"
I chanted all the way back down into my physical world and my physical consciousness.
They were all gone now, at least gone from my third dimensional perception. But, I knew they were inside. I knew that whenever I could raise my focus, they would be there. Actually, "I" would be "there".
"Actually," spoke the voice flickering to my left, "You are here now—in us—and in your Soul."