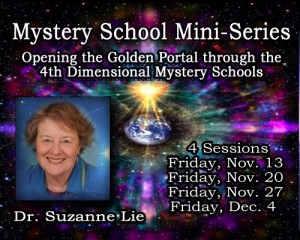 In the webinar series, Mystery School Mini-Series you will journey from your highest third-dimensional consciousness to create a portal of Golden Light, which you will ground in the core of Gaia. You will then call in your Higher Self in the fifth dimension and beyond to be your "compass," as you create a Portal of Golden Light to connect Gaia's Core with Her fourth-dimensional Mystery Schools.
As you connect the Golden Portal to each fourth-dimensional Mystery School, you will enter that Mystery School to gain the gift and lessons of each School. These Mystery Schools have served as the "Universities for Ascension" for myriad ascending ones. However, they have too often been forgotten in your busy, "modern" world.
It is the NOW to open wide the doors of these Mystery Schools as more and more of humanity are embracing the New Earth that they are consciously or unconsciously visiting in their dreams and meditations.
Join Us as We Collectively Re-open the Mystery Schools!
Our Journey is consisted of 4 webinar sessions that are at least 2 hours each for a full 8 hours of Mystery School immersion. We have completed this series, but we welcome you to purchase the package and embark upon your personal journey.
Click the "Buy Now" button to purchase the package for $45, and you will receive a link to download the full package once you complete your transaction.  You will also receive the download link in your PayPal email inbox.
Package Contents (See the package contents at the right):
Webinar Recordings (MP3 Audio & Full MP4 Video)
Four Recorded Sessions of Over 2 Hours Each (8 hours of meditation and discussion)

Webinar Session 1
Webinar Session 2
Webinar Session 3
Webinar Session 4
Course Material
Mystery School Explorations

Physical Plane
Lower Astral Plane
Emotional Sub-Plane
Mental Sub-Plane
Causal Sub-Plane
Spiritual Sub-Plane
5th Dimensional Threshold
Video: Golden Portal Meditation in Unity Consciousness
Bonus Messages & Articles
Mystery School Message #1
Messages from ACEA
Remembering What You Always Knew
Webinar Session Graphics
Collective Reflections from Students