Just as we have chosen to take a body on this third dimensional plane, we can choose the "Self" that we wish to be. Once we have cleared our dark side we are no longer victims to our past, and we are free to create our future Self.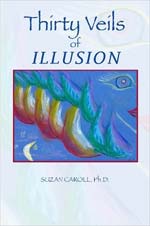 EXCERPTS FROM:
THIRTY VEILS OF ILLUSION
BY: SUZAN CAROLL
VEIL EIGHT
"The Illusion of Self"
It worked. It worked. I thought of Earth and then I was there. I woke up in my bed. But now, awakening has a new meaning. When I come here, I feel like I have awakened. Yet I know I must be asleep before I can get here. Then, it is like falling asleep when I leave here, and I must wake up before I can know I have returned. I wonder if all this is less confusing when one is in "I AM" consciousness.
"In 'I AM', my dear, there is no confusion, only enlightenment."
"Oh, Lady Astrea, I am so glad to see you again. I miss you when I am on Earth."
"But, my dear," she replies, "I am not far from you when you are on Earth. If ever you want me, just think of me and I shall hear you and travel along your beam of thought to answer you. But come now, my dear, it is your time to enter the circle."
Why is it that she brings me to the circle just as I wish to ask a question? Oh, yes, I remember, questions are merely a form of doubt. The circle glistens around me as the Ladies approach. I do know that I no longer doubt this experience. I may not understand it, but I no longer question it. As the Ladies take the veil I hear Lady Leto saying, "Dear one, the string that ties the veil of illusions is emotion. Know the emotion that you feel now. Allow it to communicate with you and give you the information you need, then release it so that you may continue with your work.
"The veil that is lifted this evening is 'The Illusion of Self.' Within this illusion, personal importance is a source of external reward and success. The 'self' is not the same as the 'Self', for many 'selves' make up the 'Self' and many of those 'selves' are not even of one lifetime. However, humanity has put such effort into establishing the little 'self' that humans begin to believe that that is all they are. They begin to believe that they are the body and that they are ruled by the ego. As an infant and a small child, one knows that there is no separation and that all on Earth are one. Infants and small children 'know' that a body holds their essence and they are actually much more than just a physical form. Since the world into which they are born is not yet ready for this concept, the children are taught to become their body, to focus all awareness on the physical form and to become a 'self.'
"With the release of this veil, you will begin to know and understand all the desires, goals, needs and rewards of this small 'self.' Watch each one of these through the eyes of the 'Self' and release them all as particles of an illusion." And now the mighty Hilarion speaks: "To be able to become one with the High Self is a vast and awesome task. I can remember how I suffered in my Earth lives to accomplish this task. My ego was strong and resented its death. You, my one, have striven first to establish a sense of 'self' so that you could better relate to the world that always felt like a foreign planet to you. Therefore, it may be difficult indeed to give up that which you have searched so hard to find.
"Release now the illusion that this small, lonely 'self' is all of you. Surrender instead to the Higher Self that you have always felt in the close distance. Fear not the ramifications. I know the reasons for building the illusion of 'self' and it is necessary while one is learning one's Earthly lessons. However, when one moves to the state of teacher, one carries the answers within.
"Release that small role with all its haunting emotions and Earthly strife. You no longer need to suffer to learn, for now you can learn through teaching. Feel the presence of the masters in your physical vehicle. Watch as all that was 'real' fades into a symbol. Know the Earth as it truly is—a schoolroom for human evolution. Collect your degrees now and leave your desks. Step up to the podium and allow your Higher Self to inhabit the vehicle that you have worked so long to prepare."
Although I can barely understand what Hilarion has just said, Apollo now adds, "I see how this is a difficult task for you to comprehend, and I know that it will take all the courage that you possess. To deny the suffering that told you that you were alive is to truly face death. Die now, my one. Die to hardships, die to restraint, die to criticism, and die to human love. See your Angels of Resurrection and feel the divine detachment as you are united with your Higher Self. Give away each emotion as it signifies a reaction to your third-dimensional life. Instead listen, observe, and understand the message passed from the third dimension to your Higher Self. Look down into all Illusions that hold the 'self' in sorrow and reward. To know the death of 'self' is to feel and be everlasting life."
As the masters finish speaking, my mind is in a whirl. How can they know so much about me personally? Although I don't yet remember my Earth life too well, I'm sure it was nothing significant. How can they know or even care about one small person such as my 'self'? "Because you have called us." I hear the loving voice of Lady Astrea answer my thought. I realize now that somehow I have traveled outside of the circle or, perhaps, it has left me. "How do you hear my thoughts, Lady?" I finally ask the question.
"My one, it matters not to me which voice you use as I listen only to your heart. We of the higher dimensions are only concerned with the issues of Earth that affect the true heart. All else is merely a lesson being played and replayed. The lives and thoughts of the human realm only concern us when humans have come to the point in their evolution where they call for divine intervention from their hearts and truly accept it. It is not that we do not love all of humanity, but rather that they are unable to accept our assistance. As long as beings have all their senses focused on the physical world, they are prisoners of that very world which they believe is all that exists."
I can hardly hear her last words, as I know I am now leaving. Oh, please, let me remember what I have learned here. Oh, please, help me to be awake on Earth…
AS WE CREATE A NEW SELF, WE CAN ALSO CREATE A NEW REALITY. BUT FIRST, WE MUST REMEMBER THAT OUR "REALITY" IS ACTUALLY AN ILLUSION OF OUR OWN MAKING
EXCERPTS FROM:
THIRTY VEILS OF ILLUSION
BY: SUZAN CAROLL
VEIL TWENTY-ONE
"The Illusion of Constancy of the Material World"
This time I find myself already within the Circle. The Ladies are at my side. As they remove the veil, I hear Lady Leto saying: "Dear one, the veil that is lifted this evening is the 'Illusion of Constancy of the Material World'. Humanity has built around itself the illusion that the world is made of dense material that is permanent and unchanging. This is a very powerful illusion as it is a thought-form which has been fed by many over a very long period of 'time.' The physical world is, however, far less permanent than are the finer vibratory worlds, because the physical molecules are in a constant state of resistance. This constant resistance slows down the total vibratory level and thereby increases the substances' density. Just as a top will slow its spin if it hits a bump, each 'bump' that is encountered on the Physical Plane causes a resistance and lowers the overall vibratory rate. The appearance of external objects is also built on the finer planes, but on those levels the occupants are aware of this fact.
"On Earth, the material objects used for one's daily existence and comfort are built by a joint illusion of the inhabitants. Since the inhabitants suffer much resistance and discord in their daily lives, their creations are built upon the foundation of dissonance and discord. Because of the foundation of resistance and dissonance the Earth illusions age in a very short time period. Environmental illusions of the higher planes never age and virtually never disappear until the occupants no longer need them. Then, they dematerialize and the molecules return to the original First Cause to be redistributed."
Hilarion adds: "The molecules which truly build 'material objects' are actually thought-molecules, or molecules of a vibration consistent with the vibratory rate of the majority of creative humanity. The wizards and magicians of old knew that material objects were made with the mind rather than with the hand. They used their magic to will the formation of material objects from the finer ethers. The illusion of 'constancy' was further fed by mankind as it became more scientifically and materialistically oriented. As the illusion of the material world's indestructibility became stronger, it became increasingly difficult to create and change the thought-molecules which make up the material world.
"However, with the advent of quantum physics, even the most scientific of humanity is beginning to realize that the material world can actually be changed by one's thoughts. As this fact becomes clear in the minds of the scientists and the intellectually oriented members of the community, the illusion of 'constancy of the material world' will begin to loose its strength. Then, physical materialization will be more and more malleable, as will be the ability to create new physical thought-forms. It was important for humanity to lose access to the laws of physical creativity during the Dark Ages, as it was not morally prepared to shoulder the responsibility of that knowledge.
"Mankind now stands on the cusp of a great adventure, or disaster, depending on the amount of responsibility that each can take for their own knowledge and creative force. It is imperative at this time in Earth's evolution that a high morality is built in the hearts and minds of humanity. This Aquarian Age is destined to be a golden age for scientific, social and spiritual ideology. It is meant to be a time when completely new realities can be formed. This new age holds the momentum of all the previous ages. It is vital that there exists a purity of thought and motive, because the ramifications of the growing forces of power and creativity will be instant, extreme and enduring."
Master Apollo continues, "As each member of mankind acquires the new state of consciousness which will be the norm in the Golden Age, many Illusions will drop away. The effect will also be logarithmic, as energy does not progress in a linear fashion but instead, progresses logarithmically. Therefore, each time another member of society claims the higher state of consciousness, which is his or her birthright, the effect of the whole will not be added by one, but instead doubled.
"In an advanced state of consciousness it will become more and more apparent that dense material objects are clearly combinations of swirling molecules moving at a very slow rate. Perception is totally relative to the vibratory rate of the perceiver. Each one has a 'base line', or resonant vibratory rate, which forms the fundamental frequency of their consciousness. They can then perceive all that is within that spectrum of vibratory rate.
"This concept can be compared to a flashlight beam casting light (or making perceptible) all that is within its beam of light. The point directly in front of the flashlight/consciousness represents the fundamental frequency, or base line vibration. The lighted areas to the right and left of this point represent the spectrum of the flashlight/consciousness. Just as the beam becomes wider as it moves away from the flashlight, so does human consciousness have a wider and wider spectrum as it moves away from the 'baseline' consciousness of mundane, physical perception.
"Just as a flashlight has a limit to its perception, mankind also has a limited perception while its consciousness is centered in the mundane, physical realities. It is possible, though, to obtain a new, stronger 'flashlight' to continue where the last one left off. This 'stronger flashlight' symbolizes a different base line of consciousness. The new, higher consciousness would then have a range twice as far and twice as wide as the former one. It is from this higher 'base line' that one can perceive the densest of physical objects as varying combinations of swirling molecules. Furthermore, these progressive levels of consciousness are infinite.
"It is only from the lower perceptions that illusion is viewed as reality. These lower states of consciousness carry such dissonance and distortion that perception of the higher realities is extremely distorted. However, as one climbs the ladder of consciousness, one is less and less influenced by the difficulties of the lowest rings. This fact does not mean that they do not care about those on the lower rungs, but that they are no longer influenced by them.
"When the majority of mankind's consciousness is withdrawn from the lower levels of existence, these levels will lose the power of the group Illusion and force the remaining members of that consciousness to realize the truth of the higher states. Those who can then raise their consciousness shall evolve with the majority of mankind. Those who cannot will cease to exist on the planet, as it will be too difficult for them to remain conscious at the higher level. These members will then be mercifully released to another solar system at a more elementary state of evolution."
I walk from the Circle in a daze. I don't know if I am dazed because I don't understand the message or if I am dazed because I do. It is as though a part of me is completely confused and drowning in a maze of unorganized thoughts, while another part of me is comfortably returning to a knowledge that was always mine.
I return now to a waking life that is really a dream. I will awaken into my sleep to pretend that all I face there is 'important' and 'real.'…