EXCERPTS FROM:
THIRY VEILS OF ILLUSION
BY
SUZAN CAROLL
VEIL SEVEN
"The Illusion of Constancy"
"Lady Astrea, Lady Astrea."
"Yes," I suddenly hear a voice awakening me. "I am here, my one, are you calling me?"
"Oh, yes," I answer, "I suppose I am. I didn't know that I was, but I'm glad that you answered me. Do you suppose that I remembered and called to you to help me return?"
"That could be, my dear. But come, it is your turn for the Circle."
Again, I enter the familiar Circle, and again, the ladies move towards me to assist in removing yet another veil. As before, I hear the voice of Lady Leto saying, "Dear one, the veil that is lifted this evening is the 'Illusion of Constancy'. On your earthly planet, all seems to be constant. The trees, the houses, the mountains, and the meadows all appear to be constant, unwavering forms of physical structure. However, this is truly an illusion for constancy is relative to your constancy of consciousness. All that is perceived by the physical senses is relative to the state of consciousness at the time of perception. What may appear to be a clear, empty sky in one state of consciousness, may be instead full of the angelic, and devic life in another state of consciousness. Consciousness also aids in determining one's passage of time.
"While one is in human consciousness, time is constant and must be experienced in a linear fashion. In human consciousness, physical structures appear the most constant because the time boundary is ever present to stabilize and masking any changes that may be occurring beyond space and time. However, in "I AM" consciousness, time is no longer a factor that must be dealt with in a linear fashion. Instead, time can be used as a compass to guide one's conscious experience and perceptions to the desired focus of time and space."
Now the Brother takes the veil and Hilarion speaks, "Dear One, the only true constancy is 'I AM consciousness'. All perception is relative to one state of consciousness and, therefore, in order to control one's perception, one must be able to control one's consciousness.
"So, my one, in your search for constancy in earth life, search instead for adequate knowledge of yourself so that you may maintain I AM consciousness at all times. All the human issues that act as anchors to pull you down repeatedly threaten this high state of consciousness. Only when you are able to detach from these human anchors will you be able to maintain I AM consciousness. As you have experienced, this is a difficult task indeed. However, the only anchors that can really pull you down are your own. Therefore, my love, learn to know yourself and love what you learn. In doing this you can transcend into the constancy of your own higher dimensional self."
The other Brother now takes the veil and Apollo speaks, "The sun is the most constant physical structure in your galaxy. Of course, this too, is relative to one's focus of consciousness. While in human consciousness, the sun appears to be a burning, fiery ball, unapproachable and uninhabitable by man. However, in a higher reality, it is a grand temple, teeming with life, both human and divine. Of course, a human may not take his physical apparatus to this temple nor could he easily reach it if he were bound by a physical structure.
"Those bound by time and space are striving to tour the heavens in their physical structures, using their earthbound sources of fuel. Little do they know that, as they free themselves of the illusion of the physical realm, they can be transported anywhere that their minds can imagine. The mind, free of the belief in limitation of the third dimension, can experience and travel throughout the universe at a speed faster than the speed of light, for the mind travels at the speed of thought.
"Each thought, then, is one's personal spaceship. Each thought can allow one to travel, become, experience, and know all that is possible or impossible. As you work through your physical anchors, know each one that pulls heavily on your vehicle. Stop and find the personal beliefs that bind this stop gate to your consciousness. Fear not the passage of time in this process, as the few earth moments spent on this endeavor can free you, for an eternity, of all earthly limitations of time.
"Know your anchors so that you can reel them in when you wish to be free and let them sink when you desire the illusion of constancy of experience."
Oh, yes, now I remember how I first arrived in the forest and how I actually came to this place, I thought it and then I was here. I wonder, if I think of Earth will I suddenly be…
VEIL EIGHT
"The Illusion of Self"
It worked. It worked. I thought of Earth and then I was there. I woke up in my bed. But now, awakening has a new meaning. When I come here, I feel like I have awakened. Yet, I know I must be asleep there before I can get here. Then, it is like falling asleep when I leave here, and I must wake up before I can know I have returned. I wonder if all this is less confusing when one is in "I AM Consciousness".
"In 'I AM', my dear, there is no confusion, only enlightenment."
"Oh, Lady Astrea, I am so glad to see you again. I miss you when I am on Earth."
"But, my dear," she replies, "I am not far from you when you are on Earth. If ever you want me, just think of me and I shall hear you and travel along that beam of your thought to answer you. But come now, my dear, it is your time to enter the Circle."
Why is it that she brings me to the Circle just as I wish to ask a question? Oh, yes, I remember, questions are merely a form of doubt. The Circle glistens around me as the Ladies approach. I do know that I no longer doubt this experience. I may not understand it, but I no longer question it. As the Ladies take the veil I hear Lady Leto saying, "Dear one, the string that ties the veil of illusions is emotion. Know the emotion that you feel now. Allow it to communicate with you and give you the information you need, then release it so that you may continue with your work.
"The veil that is lifted this evening is 'The Illusion of Self'. This illusion is that personal importance is a source of external reward and success. The 'self' is not the same as the 'Self', for many 'selves' make up the 'Self' and many of those 'selves' are not even of one lifetime. However, humanity has put such effort into establishing the little 'self' that they begin to believe that that is all they are. They begin to believe that they are the body and that they are ruled by ego. As an infant and a small child, one knows that there is no separation and that all the Earth is one. They know that their body holds them, but they are actually much more than just their physical form. However, the world has not yet been ready for this concept and, therefore, the child is taught to become the body, to focus all awareness on the physical and to become a 'self'.
"With the release of this veil, you will begin to know and understand all the desires, goals, needs and rewards of this small 'self'. Watch each one of these through the eyes of the 'Self' and release them all as particles of an illusion."
And now the mighty Hilarion speaks: "To be able to become one with the High Self is a vast and awesome task. I can remember how I suffered in my earth lives to accomplish this task. My ego was strong and resented its death. You, my one, have striven first to establish a sense of 'self' so that you could better relate to the world that always felt like a foreign planet to you. Therefore, it may be difficult indeed to give up that which you have searched so hard to find.
"Release now the illusion that this small, lonely 'self' is all of you. Surrender instead to the Higher Self that you have always felt in the close distance. Fear not the ramifications. I know that the reasons for building the illusion of 'self' is because it is necessary while one is learning their earthly lessons. However, when one moves to the state of teacher, they can carry the answers within them.
"Release that small role with all its haunting emotions and earthly strife. You no longer need to suffer to learn, for now you can learn through teaching. Feel the presence of the Masters in your physical vehicle. Watch as all that was 'real' fades into a symbol. Know the Earth as a schoolroom for human evolution. Collect your degrees now and leave your desks. Step up to the podium and allow your Higher Self to inhabit the vehicle that you have worked so long to prepare."
Although I can barely understand what Hilarion has just said, Apollo now adds, "I see how this is a difficult task for you to comprehend, and I know that it will take all the courage that you possess. To deny the suffering that told you that you were alive is to truly face death. Die now, my one. Die to hardships, die to restraint, die to criticism, and die to human love. See your Angels of Resurrection and feel the divine detachment as you are united with your Higher Self. Give away each emotion as it signifies a reaction to your third dimensional life. Instead, listen, observe, and know the message passed from the third dimension to your Higher Self. Look into all Illusions that hold the 'self' in sorrow and reward. Allow the death of the small 'self' so that you can feel and be everlasting life."
As the masters finish speaking, my mind is in a whirl. How can they know so much about me personally? Although I don't yet remember my earth life too well, I'm sure it was nothing significant. How can they know or even care about one small person such as myself?
"Because you have called us." I hear the loving voice of Lady Astrea answer my thought. I realize now that somehow I have traveled outside of the Circle or, perhaps, it has left me.
"How do you hear my thoughts, Lady?" I finally ask the question.
"My one, it matters not to me which voice you use as I listen only to your heart. We of the higher dimensions are only concerned with the issues of Earth that affect the true heart. All else is merely a lesson being played and replayed. The lives and thoughts of the human realm only concern us if the one has come to the point in their evolution where they can call for divine intervention from their hearts and truly accept it. It is not that we do not love all of humanity, but that they are unable to accept our assistance. As long as one has all their senses focused on the physical world, they are prisoners of that world."
I can hardly hear her last words, as I know I am now leaving. Oh, please, let me remember what I have learned here. Oh, please, help me to be awake on Earth…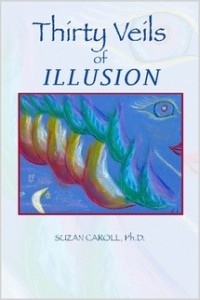 Thirty Veils Of Illusion
WHEN ILLUSION IS REMOVED, ALL THAT REMAINS IS TRUTH This book should really be entitled, "My Thirty Veils of Illusion," as I'm sure that each person who journeys inside himself or herself would find their own thirty illusions, or more.…
more