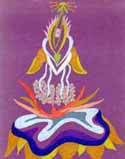 Our planet is transitioning into the fourth dimension. What reality shall we create for ourselves there?
Whenever a choice of consciousness is made, there is a coordinating reality that follows that choice. Above and beyond any issue that may appear to be the cause of life's turmoil or even victories, all of our reactions to life are indeed consciousness choices.
In other words, we participate in the creation of our reality according to the way we respond to our world. As an example, we may respond to a difficult situation either from a lower consciousness by becoming frightened, angry, and insecure or from a higher consciousness by being hopeful, positive, and calm. These choices of consciousness also arise during a positive event. Either we can respond by being boastful or worried that our success is temporary, and generally feeling undeserving, or we can respond with a higher consciousness by realizing that all events are lessons for learning, whether positive or negative.
Lower consciousness is defined here as third dimensional and lower fourth dimensional consciousness. Higher consciousness is defined as higher fourth dimensional and fifth dimensional consciousness. Lower dimensional consciousness is based on a materialistic viewpoint of life. All that exists is that which can be perceived or measured by instruments of the physical plane. Higher dimensional consciousness opens us up to other planes of reality that can be perceived only by our inner senses.
The doorway to these planes lies within us. Many have referred to the higher dimensions as the mystical planes or heaven, and they believe that they can only be attained through death. Although there are some people who have no contact with the higher dimensions, anyone who has even the slightest belief in a "God" or "Goddess" has some access to this plane via their belief systems. We all have some higher dimensional experiences through our night bodies, but the staunchest third dimensional thinkers even deny themselves the memories of their dreams.
Some people come into this life with primarily a third dimensional consciousness. If they wish to expand their minds, they must work hard to open their imaginations to higher dimensional thinking and perception. Others, however, are born into this life with an open link to the higher dimensions and have to struggle tenaciously to ground themselves in a world that denies their very core of existence. Either way, to complete one's sojourn on the physical plane, one must learn to be a master in both lower and higher dimensional thinking.
To be a master in third dimensional thinking we must understand, and be functional in, the materialistic, physical world. In order to be a master of higher dimensional thinking, we must realize that we truly are beings of a higher destiny. Having taken on a physical form, we have the opportunity to release old patterns of limitation and be of service to the ONE.
The first and most important step in mastery of the higher dimensions is to realize that Spirit runs not from us, but through us. This realization allows us to release our attachment to the rewards and validations of the physical plane. Since we are not the source of the spiritual/creative force, but rather the channel through which it flows, we need no recognition nor acclaim for the contributions that Spirit has made through us. This freedom from need for reward also releases the fear of negative reactions from others.
This process is actually quite difficult as we seldom come to this stage of evolution before having gained an ego attachment to the workings of the third dimensional world. To release the ego attachment, we must place our attention on another portion of ourselves, our Soul. This process of functioning, not from the third-dimensional ego but from the Soul, is difficult and long and takes great dedication. It is a process achieved, moment-by-moment, in choices made regarding responses to our physical reality. Are our responses to life from a higher or lower state of consciousness?
When the majority of chosen reactions to our physical life are third dimensional, then we function in that reality. However, as we choose to respond to life in a higher dimensional way, we begin to move into that reality. In fact, with each choice of response we move into or away from this new reality. The fourth and fifth dimensions are not new, but they are new to those who have never allowed themselves to consciously experience them. Why have these people not chosen to remember these higher worlds?
Some people do not know they exist, so they do not search. Perhaps, they have not chosen to know that higher dimensions exist because the third dimension has trapped them in its illusions and disillusions. However, the higher dimensions are not something that we can experience for the first time, because they are actually the realities that we are returning to. This return is now being experienced not just by death or sleep, but also by conscious choices made while being awake and aware in the physical plane.
When we choose to remember the fourth and fifth dimension, we begin to awaken the memory of other third dimensional lives. Those of us who came into this life as primarily fourth and fifth dimensional beings may always have had "dreams" or recollections of these lives. As we begin to free ourselves of our imbalances in our present third dimensional reality, other third dimensional lives (often thought of as past lives) come to our consciousness to be healed and balanced as well.
Learning of the lessons and patterns of our other lives can assist us to move beyond the limitations of our current life experiences. The lives in which we faced the same challenges, or shared experiences with the same Souls as in this life, will be the first ones to be remembered. When we are able to see that the roots and patterns of our present relationships and challenges are found in other lives, and heal these issues at the source, we can commune with our Soul more deeply and clearly. We may then choose to "remember" our Soul's purpose for this life's incarnation.
Because of the unique quality of the times in which we live, it may be beneficial to view and re-experience our first incarnation in third dimensional form. In that life, we may remember our first experience of separation from the Oneness of All and from the completion of ourselves – our Divine Complement. Our Complement encompasses both the male and female polarities of our Soul, which is androgynous. Once we have consciously united with our Divine Complement, we can hold that love in our hearts as a beacon to guide us in the higher planes.
With this awareness of our Soul, we can often view our highest spiritual lives. The awareness, which we achieved in those lives, can be a great teacher to us and can assist us in remembering lives, beyond the fourth dimension. In the lives in which we complete our spiritual initiation, we are able to lift the veil of illusion and journey consciously into the fifth dimension and beyond. Our highest spiritual lives can help us to remember our destiny and perceive our multidimensional SELF. As each one of us takes the responsibility for healing, balancing, and raising our personal energy fields, we also assist the planet in doing the same.
VISIONS FROM VENUS Addresses the above topic. If you are interested, please click below for more information.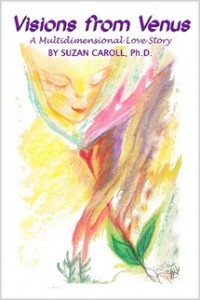 Visions from Venus
A Multidimensional Love Story begins with Shature's descent into the third dimension, then to a new home in the fourth dimension, and ends with her return to the third dimension in search of her other half. Fact and fantasy intertwine…
more