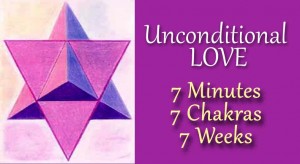 7 Minutes * 7 Chakras * 7 Weeks
You will receive a Free 7-minute meditation download every Monday for seven weeks.
You can then allocate 7 minutes each day to listen to the meditation of the week.
   These short meditations will guide you to unconditionally love your self by focusing on the mind, body and spiritual elements of that week's chakra.
All of the meditations will be shared on my blog weekly to feature each of the 7 chakras, and they will be available for download. I encourage each of you to share your experiences and processes in the comments section of the blog.
You can also listen to the streaming meditations on SoundCloud (you can access the full playlist at the bottom of this page.)

Unconditional Love Finale Webinar
Thank you for your wonderful contributions and participation!

How many minutes will we all spend collectively in unconditional love?
As we begin the final week of our 8-week process, we are currently at
439,799 minutes! Help us celebrate on Saturday.
*
 ~Follow the Process Below~