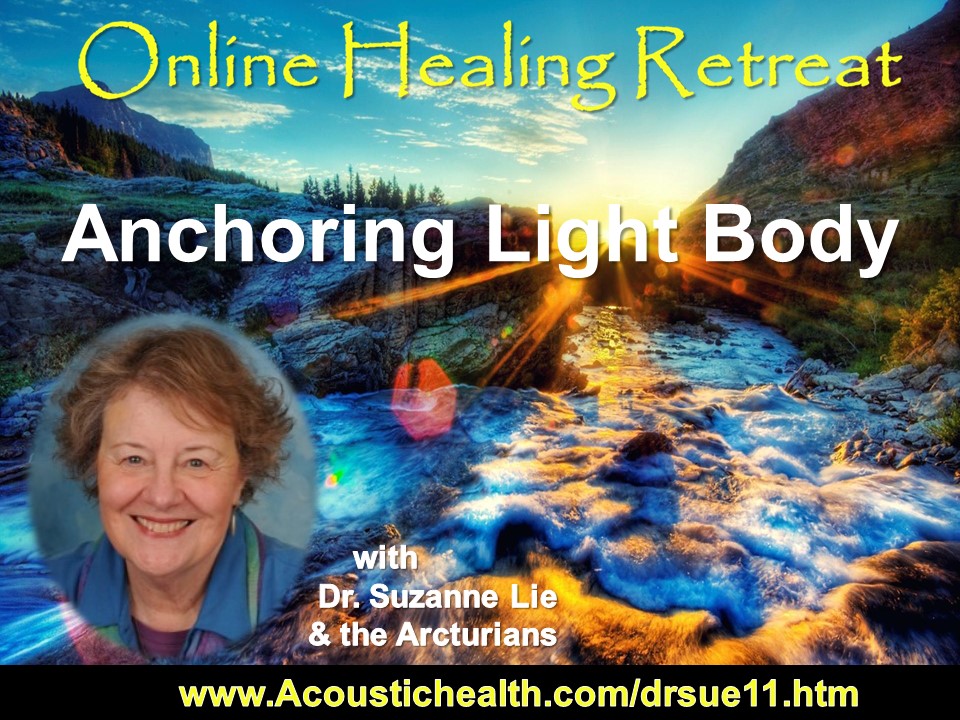 A 3-Part Online Event Series
June 9, 10, 11, 2016
(Thursday, Friday, & Saturday)   
11 am Pacific / Noon Mountain / 1 pm Central / 2 pm Eastern /6 pm GMT
(Click the Special Offer button)
Online Webinars with Downloadable MP3 Recordings and Transcripts  
Lightbody is the YOU that resides within the light of every synaptic junction of your neurological system, and within the core of the 97% "junk DNA."
It is important that you all unite your transmutation into Lightbody with Gaia's transmutation into Lightplanet. The reason for this is that most of you who are receiving this transmission are aware you are already fifth dimensional Lightbody in your fifth dimensional self.
As your "junk DNA" comes online, which it is doing day-by-day, more and more of your Lightbody will be revealed to your third-dimensional consciousness. Those of you who have meditated to the extent that you can consciously connect with your gamma wave consciousness have had fleeting experiences of "being Lightbody."
These experiences are fleeting because you have made a pre-birth contract that you would not flash into your Personal Lightbody until there was enough Unity Consciousness of humanity to "time" that flash into your personal Lightbody with Gaia's flash into Planetary Lightbody.
Therefore, you do not "create" your Lightbody, but you "return" to your Lightbody. You, the ones who took an earth vessel to assist with Planetary Ascension, are remembering that this "return to your innate Lightbody self" was planned before you took this incarnation.
In fact, you volunteered to take this, particular and very important, incarnation because you knew that Gaia had the Possible Reality of flashing into a fifth-dimensional "Light Planet." All of Gaia's kingdoms are ready for frequency shift, except for humanity.
Therefore, you will need to regenerate and heal your earth vessel for your higher octave of your service.
~~~~~~~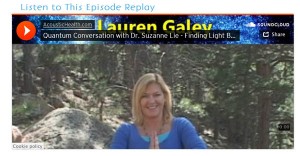 Join Dr. Suzanne Lie who will channel messages from the Arcturians on Ascension and how we can experience our Light Body. In this episode, the Arcturians lead us in a guided meditation to Find Your Light Body. Lightbody is the YOU that resides within the light of every synaptic junction of your neurological system, and within the core of the 97% "junk DNA." Your Lightbody has a neurological system much like your physical body, but instead of resonating to the third and fourth dimension, your Lightbody resonates to the fifth dimension and beyond. Your Lightbody is what keeps you "alive," and your High Heart and Third Eye rule it. Your physical heart and your physical brain rule your physical body. Your etheric body of your fourth dimensional self serves as the frequency interface between physical body and your Lightbody.
~~~~~~
ANCHORING LIGHT BODY—3 Day Webinar
The course is on Thursday June 9 @ 11:00 am Pacific DST
Friday June 10 @ 11:00 am Pacific DST
Saturday June 11 @ 11:00 am Pacific DST
ANCHOR CONCEPT OF HIGHER SELF/LIGHTBODY
In multidimensional mind
In High Heart
ANCHOR ATTENTION IN PHYSICAL BODY
Base of Spine
What is Kundalini?
How body changes as Kundalini begins to rise
ANCHOR ATTENTION IN CORE OF EARTH
Merge personal with planetary SELF for adequate GROUNDING
Become a Personal/Planetary Being
Activates 5D Consciousness
State of consciousness directs perceptions
Your perceptions shift
SENSE OF SELF CHANGES—NEW PERCEPTION OF SELF
How does your "sense of self" change?
How do your thoughts and emotions shift as your "perception of self" change?
How do your outer perceptions change?
ANCHORING LIGHTBODY INTO:
Physical Body
Daily Life
Core of Gaia
Higher Self
KUNDALINI RISES
How Lightbody is within your spinal column
Goddess Shakti (base of spine—female)
Lord Shiva (Crown of head—masculine)
Merging of inner polarities of male and female
CHANGE OF RESONANCE
Resonance/frequency of body changes
Resonance of consciousness changes
Resonance of thoughts and emotions change
Resonance of perceptions change
NEW PERCEPTUAL CHANNELS AND EXPERIENCES OF REALITY
The Reality you believe is the Reality you perceive
The Reality you perceive is the Reality you live.
BEING two people within the ONE body
QUESTIONS AND ANSWERS