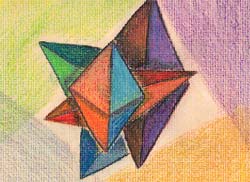 Dear People of My Planet, I am Gaia, returned to assist you in recalibrating your Second Chakra. Your Second Chakra is the home of your inner child. It is also where old, polarized emotions of both "good" and "bad," are stored, which come forward as a special memory or fill you with feelings of old, forgotten pain and fear. As you recalibrate your Second Chakra, you will release repressed emotions of fear, anger and sorrow. This release allows happy memories to come to the surface and to connect you with your Divine Child, the inner child who has remained untouched by the outside world.
All of your life, your Divine Child has been safeguarding your true Essence, innate instincts and intuitions for this moment of your transformation. As you reconnect with your original innocence and purity, it is as if you are born anew. This re-birth gives you a second chance to learn to trust others and, most importantly, to trust yourself, the SELF that your Divine Child never forgot.
SECOND CHAKRA MEDITATION
Since the second chakra rules the element of water, you may wish to sit near water, turn on a water fountain, listen to an environmental CD of water, or meditate in the tub, or after a shower. As you begin this meditation, hold the memory of the feeling of water on your body.
Prepare you space with candles, incense, music, privacy and peace.
Close your eyes and take three long, slow, deep breaths.
See yourself as a small orange light in the center of your brain…
Slowly, allow that light to fall down your spine like a feather…
as you travel down…past your throat…past your heart…
past your solar plexus…and into your second chakra…
The color for the second chakra is orange, and the tone is "o" as in Home.
Visualize yourself sitting in your favorite pace in nature…
Align your Second Chakra with your First Chakra…
Inhale the color orange up from the earth…
Exhale with the sound "o"…
Feel your SELF at Home in your body…
Feel your body at Home in Mother Earth…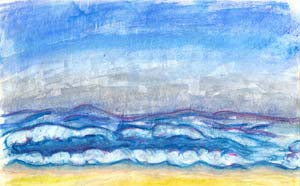 Imagine that you are floating in water…
Experience the FLOW as the water follows its current…
without resistance…without question…without fear…
Feel this FLOW of fluid "within you" as it feeds and heals you…
The physical sense of the second chakra is taste.
Think of your favorite foods and the memories of enjoying them…
What is your emotional attachment to eating?
What memories are linked to your "family meals?"
REMEMBERING
Breathe into your second chakra…
Allow memories of your youth to come forward…
With each memory, you become younger and younger…
Feel the emotion that is attached to each memory…
With each memory ask, "What did I learn from that experience?"
Store the pleasant memories in your heart…
Release the unpleasant memories with the sound of "o"…
Visualize your child self standing in front of you…
How old is this child?
What is he or she wearing?
Do you recognize the place he or she is in?
Thank your child self for holding these emotions for you and
for releasing them to you now…
What does your inner child say to you?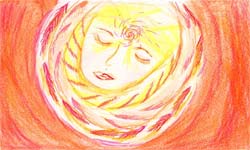 LIFE BEFORE BIRTH
"Imagine" yourself as an infant, your Divine Child.
Remember, your imagination is REAL!
Visualize yourself becoming younger and younger
until you are in the womb
Feel the sensation of floating in your mother's womb
What emotions are you feeling?
"Imagine" yourself floating in the womb of Mother Earth.
Feel how you are One with Her
"Imagine" your Spirit Essence before you were born.
From this perspective, look down at planet Earth…
See your Earth Mother and your human mother awaiting your birth…
What emotions and memories are you having?
See your Soul/SELF around you as you await your birth…
As you begin your re-birth, invite your Soul/SELF, who has recalibrated and entered you First Chakra, to move both down from your Spirit Essence and up your Root and into your Navel.
Feel the empty spaces, once filled with polarized negativity.
Now, allow your Soul to enter these spaces.
As you align your First and Second Chakras, allow your Soul to recalibrate the frequency of your Second Chakra.
As it does so, feel the acceleration from third dimensional, conditional emotions into higher dimensional, Unconditional Emotions.
As your Soul becomes Captain of your Second Chakra, you gain conscious access to your multidimensional memories. Hence, you can NOW remember the "Mission" you volunteered to fulfill before you were born…
MANTRA:
I REMEMBER my Mission
I am READY to fulfill my Mission
I AM fulfilling my Mission NOW
With the memory of your Mission in the forefront of your consciousness, establish a constant communication with your Divine Child. Allow your Divine Child to reside in your Second Chakra to constantly remind you that you are a Multidimensional Being.
As you remember your Mission, please remember me, Gaia, who is ALWAYS with you to assist you in partnership, as you also assist me. As each one of you clear your painful emotions, you create your "Tunnel through the Lower Astral Plane." This Tunnel is actually a vortex of Light like the first rays of sun breaking through the mist at early dawn.
The Astral Plane is the lower fourth dimension, which surrounds my body Earth as my aura. Just as the darkest waters are at the bottom of a pond and the purest waters at the top, the densest fear lies in my Lower Astral Plane and the purest love floats at the top of the Astral Plane on the threshold of the fourth dimensional, Mental Plane. The Lower Astral Plane holds all the polarized negative emotions such as fear, terror, hate, rage, sorrow and depression.
In fact, the Lower Astral Plane is known as "Hell" to many of your religions. It is where the darkest effluvia of all the experiences of all my inhabitants wait to be liberated into the Light. As each of you creates your own Tunnel of Light in your aura, you also create a Tunnel in my aura through which the Higher Light can enter my body and the lower darkness can escape into redemption.
In reality, there is only one polarity for emotion, which is fear/love. All other "bad" emotions are driven by, or the result of, fear, just as all other "good" emotions are driven by or the result of love. Because of this, it is vital that my people learn to "manage" their fear. I say "manage" as it is not yet safe enough on my planet to release all fear, as you need it as a warning mechanism. There is still much turmoil for my inhabitants to undergo before we have completed our transition. I am making the transition as slowly as possible to alleviate as many disasters as I can. However, I need assistance from my Keepers of the Land.
Your thoughts and emotions influence my elementals of earth, air, fire and water. Those of you who are awakening will initially carry the responsibility for the entire human race. Many of my people will fall into fear, while others will use it in a vain attempt to maintain a reality of "Power Over" others. Please join with my dear cetaceans, the Keepers of the Water, in your service of "calming" the ethers of my planet, which are so affected by the negative emotions, thoughts and actions of my people.
Our beloved Arcturians will now talk to you about fear. Therefore, I turn you over to their loving care.
Thank you again for assisting in OUR rebirth,
I AM Gaia