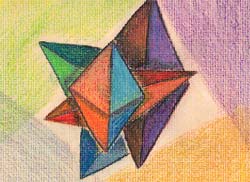 THE FORCE OF LOVE is centered in the Fourth, Heart, Chakra.
FOURTH CHAKRA ~ HEART CHAKRA
Dimensions

Interprets

Body

Rules

Consciousness

Brainwaves

3D, 4D and 5D
3D – Human love
4D – Spiritual love
5D – Unconditional love
Heart, Lungs, Immune system, Arms, Hands
Love, Health, Relationships
Conscious, Inter- and intra- personal interactions
KNOWING
Beta to Alpha or Theta
The Fourth Chakra is the central integration center for your entire body and the foundation of your greatest power, the Power of Love.
Fourth chakra problems express through your:
Consciousness as difficulties giving or expressing love in your relationships and your overall health
Body/Nerve Plexus as problems with your heart, lungs, immune system, arms or hands
Thymus Gland as auto-immune disease, frequent illness
SYMPTOMS OF TRANSFORMATION: Since your Heart Chakra is the "Central Control Station" for your body, there are many uncomfortable symptoms that you may suffer as you integrate the Higher Light. The Higher Light is a higher frequency than any Light your body has experienced. Therefore, this Light will expose hidden places of darkness that you never before knew existed. It is important that you realize that you are undergoing a major transformation and do NOT judge yourself.
The Unconditional Love of your Higher Self's Light is the primary healing force for ALL your difficulties. Of course, if needed, it is important to also seek medical attention. However, remember always, you are not "having" problems; you are "releasing" problems. As your Heart Chakra opens to integrate the Higher Light, long ignored issues will likely come forward to finally be dealt with.
When your Heart Chakra is integrating the Higher Light, you may experience immune deficiency, lack of joy, heart problems, and/or bitterness about your life. You may become insensitive, emotionally closed, passive and/or sad. You may have cardio-vascular or respiratory problems. These apparent problems may also be symptoms of deep anxiety that you are feeling as you release a lifetime of sadness and/or lack of love.
This is a good time to remember that if you want something, give it away. Therefore, if you want more love—love more! If you feel you have not yet found your place in your family or community, find a way to love someone else who appears to be an outsider. If relationships seem especially unloving at this time, it is because you are transitioning from 3D conditional love to 5D Unconditional Love. Therefore, you are in the process of learning to love without ANY conditions. If you can learn this important lesson, you will never again suffer from lack of love.
However, one of the most important parts of learning Unconditional Love is that you must first love yourself unconditionally. If you don't love yourself, and you love others unconditionally, you will become a martyr or a doormat. On the other hand, when you love yourself, without condition, you are always protective of the great being that you are. From that perspective you can love others unconditionally without endangering or demeaning yourself in any fashion.
INTEGRATED FOURTH CHAKRA: When your Heart Chakra has integrated the Higher Light, you are clear and balanced. You can experience love, compassion, acceptance and fulfillment within yourself, as well as within your family, community, nation, and planet. Your heart and respiratory system are strong and healthy, you have a good immune system, and you feel calm and joyful. You are able to balance your masculine and feminine aspects, as well as your human and divine aspects. Your loving relationship with your SELF is reflected in your relationship with others.
However, do not think that you need to hold all of the above qualities all the time. You are living in a time of great transformation, for yourself, your society and your planet. Nothing will stay the same for long. Change is everywhere and always. Therefore, you will be called upon to repeatedly return to the Core of your High Heart to become balanced in your SELF. Now, more than ever, it is vital that you lead a balanced life. Luckily, now that you love yourself, you are willing to enjoy the life that you have desired to attain for so many lifetimes.
Because you are now living the life of a Multidimensional Being, you are receiving stimuli that you never before knew existed. The illusions of the 3D Game are rapidly falling away, and you know TRUTHS that set you apart from most of the people that you have known your entire life. YOU are a Vanguard. YOU are a great Leader, and the first thing that a Leader must come to terms with is that "It is lonely at the top."
Because of this loneliness, you must find, and frequently communicate with, others who are also making this transition. Start a website, so that you can communicate with the whole world, write your experiences, or share them in some other creative fashion. Becoming a Leader requires great responsibility. If you do not fulfill whatever new responsibilities your Soul/SELF guides you to accept, you will be like a racing car stuck in neutral. Your growing Power of Love will force you to express yourself.
It is time now to take your Light out of hiding and display it for all to see. Do it, do it NOW! You are a treasure—express your SELF.
THE TREASURE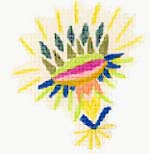 NOW, the box is open.
You sit across the room, at a safe distance, observing the box that has somehow appeared before you—with the lid off. You have kept this box hidden for a very long time. You did not feel that the world, or you, was ready to view its contents.
How it suddenly appeared before you is still a mystery. Perhaps someone else put it there; but, no, that is not possible. Why, only a few moments ago you turned your back, and as you turned around, there it was. The windows are closed and you only turned your back for a few moments. No one else could have placed the box before you.
You were told that, when the time was right, this box would leave its hiding place and appear before you—opened —whether or not you felt prepared. It would then be "time" for you to look inside and receive further instructions. Well, you certainly do NOT feel ready. Of course, you have never really felt ready. That is why you have kept the box hidden.
However, lately you have been feeling more peaceful and accepting—but ready? Oh, no! There is still too much to do. But, nonetheless, there is the open box lying patiently before you. And, upon further investigation, you notice that a strange glow is emanating from the box.
Had the glow always been there and you just missed it? Or had it just appeared? Finally, curiosity takes over where your courage has left off, and you move toward the box. What could be inside? Whatever could the "further instructions" be?
As you move toward the box, you feel a ripple of apprehension and excitement. Then, as you approach it, the glow becomes brighter, almost as if the acceptance of your destiny is igniting a flame deep inside the box.
You can almost see inside the box now. Fear, apprehension and expectation whirl about your mind. Maybe this is all a hoax. Or, maybe, you are just dreaming. Strangely enough, as you allow this doubt to take hold in your consciousness, the light appears to dim.
As much as the light frightens you, you have already become attached to it. It feels like a reassurance, a comfort. Suddenly, the light brightens, as if in response to your thoughts of acceptance.
You can see over the rim now, but the light has grown so bright that it obscures what is creating it. You will have to reach inside and pull to the surface that which you seek–and fear. You close your eyes so you can better concentrate and allow your fingers to grasp the source of light deep inside the box. Gradually, you lift it up before your closed eyes. Slowly, you open your eyes to gaze upon that which you have sought.
At first, you see nothing. The light had grown so bright that you can see only a blaze of gold. Finally, as your eyes grow accustomed to the golden glare, you see a miniature figure. Indeed, the figure is quite familiar.
If only your eyes could further accustom to the light, you could better discern who this figure represents. From the size of the glow, you think it must be a statue of some great Master. But NO, you realize as you become accustomed to the light. It is ONLY a figure of you. How can that be? This glow must have come from something else.
Feeling a bit confused and, yes, disgusted, you set down the figure down next to the box and walk across the room. However, much to your surprise, the glow follows you. In fact, the light seems to emanate from you now.
Yes, the golden glow is coming from you and even seems to radiate out before you, as if it is leading you. But where? Where could this light take you?
"HOME," whispers a voice from deep within your Heart.