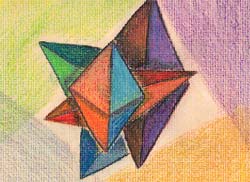 THE FORCE OF Higher Creativity is centered in the Fifth, Throat Chakra.
FIFTH CHAKRA ~ THROAT CHAKRA
Dimensions

Interprets

Body

Rules

Consciousness

Brainwaves

3D, 4D and 5D
3D – Human communication
4D – Higher emotions and creativity
5D – Channeling
Throat, Teeth, Hearing, Neck, Voice, Speech
Higher emotions, Higher creativity
Conscious, Higher communications, Higher creativity, Channeling
Beta to Alpha
Fifth chakra problems would express through your
Consciousness as difficulties with communication and creativity
Body/Nerve Plexus as problems with your throat, mouth, speech or hearing
Thyroid Gland as sudden weight loss or gain, feeling too hot or cold, hyperactivity or lethargy
SYMPTOMS OF TRANSFORMATION: While your Fifth Chakra is recalibrating and integrating the higher frequencies of your Soul/SELF, you may have problems with your hearing, throat and/or voice. You may cough, confuse your words and/or hear a buzzing in your ears. Since this chakra is ruled by your thyroid gland, you may have extremes in your metabolism, body temperature, energy levels and/or flu like symptoms. Your cholesterol levels may also become too high. Seek medical attention, but also remind yourself that your body is undergoing a great transformation.
Because of this transition, you may "shut down" when with others, causing your relationships to suffer from poor communication and lack of intimacy. You may also shift from deep spiritual insight to feeling completely uninspired and disconnected from our inner SELF. Be patient with your self. You are experiencing the extremes in order to find the center. As the higher frequency of your Soul/Self becomes integrated into your fifth chakra, your life will become more balanced.
INTEGRATED FIFTH CHAKRA: Once you have integrated your Soul/SELF into your Fifth Chakra, your life will change greatly for you will feel like you are in constant communication with your Soul/SELF. Because of this, your communication with others will become more positive, creative, and, sometimes, even inspired. You will, of course, still slip into old patterns, but you will recover quickly, as you are in touch with your SELF.
Your thyroid gland will function optimally, and you may easily return to and maintain your healthiest weight. Your cholesterol levels will be good, your energy will be vital, and, most of the time, you will feel physically and psychologically strong. Your creativity will be greatly enhanced and you may feel a need to communicate your Soul's intentions in a creative manner.
Your Soul will now be the primary "voice" in your head, and your ego will reassigned be become the guardian of your earth vessel. Your life will become be increasingly centered on finding your "Purpose," and expressing your true SELF. You will no longer be able to limit yourself to a vocation or relationship that does not express your Soul's needs and pleasures. Therefore, your personal and professional relationships will change or be transformed to be based on truthful communication and genuine intimacy.
The integration of this chakra may bring the greatest change in your life so far. Now that you have opened your High Heart and learned to love yourself unconditionally, you will no longer allow limitations in your life. Your constant communication with your SELF will guide you to see through most illusions and remind you to always be true to your SELF. Because of this, any professional and personal relationships that no longer resonate to your SELF will gradually, or suddenly, be released. Furthermore, if you are not comfortable with the area, or home, in which you live, you will likely move.
Since you live in the TRUTH, you will instantly spot a lie and refuse to participate in it. You will no longer be able to tolerate many of the third dimensional rules and regulations, and will become an advocate for change in your self and in your environment. You will have found your Creative Voice and express it without limitation. You have, at last, heard the "voice of your SELF," and will no longer be able to blindly follow others. More and more, you will be the Captain of your ship and the Master of your Destiny!
MESSAGE FROM YOUR SOUL/SELF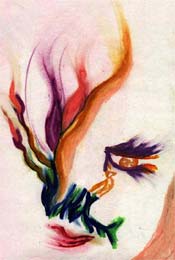 Dear Grounded One,
It is I, your Soul/SELF. I AM the Eyes through which you see your new reality and the inner voice that is filled with Unconditional Love and Compassion. I AM joyous that you are integrating me into your Fifth Chakra and am ever-present and eager to assist you in returning to the ONE.
ALTERNATE REALITIES
I am here now to assist you in recalibrating your Throat Chakra so that ityou may more easily integrate my vibration. I wish to also remind you that there are many portions of OUR Multidimensional SELF in the fifth dimension and beyond who are waiting to communicate with you. WE, OUR Multidimensional SELF, have many realities in which we participate. Now that you can communicate with me, you will be able to also communicate with our other fragments on other planets, galaxies and dimensions.
When your consciousness expanded to encompass the fourth dimension, you became aware of your many third and fourth dimensional realities, which you likely viewed as "past lives." However, since there is NO "time," there is NO "past." Therefore, these lives are, in fact, alternate realities. Because you have expanded your consciousness beyond the confines of 3D time and space, you can serve as a "Higher Self" to your other third and fourth dimensional fragments, just as I have served as a "Higher Self" for you.
When you have integrated your Throat Chakra, you will also be able to communicate with your alternate realities in the higher dimensions. Allow me to explain to you how you can differentiate between the Beings of our own Soul Stream and Beings of another Life Stream.
SIGNATURE FREQUENCIES
I, the Soul/SELF of all of my fragments, have a signature frequency. This signature frequency resembles a family name, except that every member of the family is ME/US. When you first took a third dimensional form, you created a special signature frequency for that physical body. This special frequency is like your "first" name, whereas my signature frequency is like our "last" name.
There is a "first name" signature frequency for each "body" of our SELF that holds a form in every timeframe and vibration. Whenever you travel inter-dimensionally, you will be able to locate, and re-unite with the fragments of our total SELF by calibrating your consciousness to the "last name" of our signature frequency.
Calibrating your consciousness to the "feel" of our "last name" signature frequency is much like dialing a phone, or typing in an email address. You will KNOW this "last name" once you have completed your integration process.
CHOOSING REALITIES
As your integration process continues, your multidimensional perceptions will awaken more and more. As a result, you will receive information that is difficult to integrate into your old, 3D belief system. Hence, you will have to choose between the new information and perceptions you are receiving from your inner SELF and old knowledge and experiences that you have believed to be true for most of your life.
This difficulty with integrating this old and new reality causes a sense of agitation and anxiety. You may feel like you are dying, even though you know that is not true. This "dying" is quite different than the "deaths" you experienced in your "past lives," as this time you are not leaving the third dimension. Instead, the third dimension is leaving you.
As the molecules of your earth vessel vibrate faster and faster, they rise into the fourth dimension and beyond. Just as boiling water transforms into steam, you are transforming into your higher vibrational self. Allow everything that leaves your world to go in peace, so that fear does not threaten to lower your vibration and force you to remain in an extinct reality. Also, remember that it is the third dimension that is leaving you, not YOU leaving it.
YOU are transforming in UNITY with Gaia. Many plants, animals and humans that have "died" or become extinct, have actually "gone ahead" to populate our higher dimensional Earth. Do not grieve the persons, places and things that you will leave behind as you raise your resonance above their frequency. You are a Wayshower who is preparing the route to a new reality.
You, the members of the Planetary Ascension Team, are gauging your rise in resonance to match the resonance of Gaia. Those who do not choose Gaia's reality of Planetary Ascension will not experience that reality. They will have a different reality that is of their own making.
RECALIBRATING THE FIFTH CHAKRA
Do not doubt yourself or your Mission. Doubt is the messenger of fear. All is proceeding according to the Divine Plan. It is "time" that you accept that I, your Soul/SELF, am you and you are me. I ask you now to SURRENDER into me, so that I may better recalibrate your earth vessel to accept and integrate more of my multidimensional Light.
I ask you now to surrender your old concepts of reality, so that I may share with you OUR true multidimensional reality.
Surrender your breathing to breathe liquid light.
Choose to breathe liquid light.
Surrender your vision to see the higher worlds.
Choose to see the higher worlds.
Surrender your hearing to hear the Music of the Spheres.
Choose to her the Music of the Spheres.
Surrender your thoughts to free all limited thinking.
Choose freedom from limitation.
Surrender your emotions to release all feelings of separation.
Choose Unity.
Surrender your words to speak only TRUTH.
Choose to KNOW the Truth.
Surrender your heart to accept Unconditional Love.
Choose to give and accept Unconditional Love.
Surrender your 3D self to BE your Multidimensional SELF.
Choose to BE your SELF.
Surrender your physical body to become Lightbody.
Choose to activate your Lightbody.
Surrender your ego to become Soul.
Choose to live as SOUL.
Calibrate your physical body to accept these new choices.
Ground your new reality in the body of Gaia, Earth.
A MULTIDIMENSIONAL JOURNEY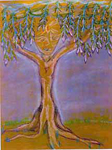 Together we, Spirit into Matter, will travel into the core of the Mother to "become" every dimension of Her Beings.
As we travel into the Core of Gaia's Earth, we become smaller and smaller until we are a first dimensional molecule of matter, filled with Spirit. We are a MOLECULE in the body of Gaia. We are beginning our new reality together as ONE. The moment that we have awaited for many lifetimes has begun.
Together, we expand into the second dimension and feel our CONNECTION to all life. We are the plants that grow and the insects that live upon them.
As we move into the third dimension, we feel the MAGNIFICATION of our Being. We are the grounded Essence of our Multidimensional SELF.
As we continue our multidimensional journey, we surrender to the FLOW of the fourth dimension and the Seven Rays of Light that move through this etheric world.
We follow this Flow into the Crystal Cities of the fifth dimension to meet more manifestations of our SELF. They greet us, like the family that they are.
As we move together into the sixth dimension, we see the hologram for our IDEAL Grounded Self. We go to the matrix for our lower realities and make the necessary alterations.
As we move together into the seventh dimension, we experience the TURN AROUND POINT from which we can now know our life from the perspective of our Oversoul. We experience a great reunion with our Soul Family.
We move into the eighth/ninth dimensions to experience all POTENTIALS, as we enjoy the experience of unconditional understanding and acceptance of the Group Minds of Planets, Solar Systems and Galaxies.
As we move together into the tenth/eleventh dimensions we embrace our SELF as ELOHIM and/or ANGEL.
Within our form of Elohim or Angel, we visit The SOURCE of All That Is in the twelfth dimension.
We understand that there is a "All That Is NOT," but are unable to KNOW it while holding a physical form. Hence, we begin our descent. Slowly, as ONE Being we float back towards the time/space capsule of our Earth body. As we re-enter our newly expanded physical form, we store the memory of our inter-dimensional journey in our Heart, so that we will always remember that:
I AM today—and tomorrow spent
I AM the place—where the future went
I AM the Sun—inside the Moon
The morning after—that comes too soon
I AM aware—and unafraid
I've done my work—my sins are paid
I ask for nothing—and I'm here to say
I AM the past—I AM today
I AM you—and YOU ARE me
Together now—we both are FREE!
When you have completed the integration of me, your Soul/SELF, you will be able to recognize and communicate with more fifth dimensional aspects of our Being. Once you have integrated their reality into OUR earth vessel, your/OUR consciousness will expand enough to download and integrate even higher dimensional Beings.
Eventually, you will be able to download and integrate Group Minds, such as the Arcturians, Planetary Consciousness', such as Gaia, and eighth through tenth/eleventh dimensional Beings, such as Elohim and Angels. Remember, my One, ALL of these great Beings are OUR SELF! You see, dear Grounded One, WE are infinite. There is NO end to us, just as there is NO beginning.
Thank you for accepting me into your form.
Your Soul/SELF