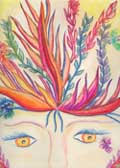 MYTRIA
11-20-95
Dear Mytria,
I have asked to speak with a Pleiadian, and I received your name. I am opening myself to my multidimensional self, and I wish to speak with you. I hope that I have been able to clear myself enough so that I can have a clear reception of your message.
Dear One,
You have indeed been opening yourself to your multidimensionality and, in doing so, you have allowed yourself to receive messages from higher dimensional beings such as ME. I am from Alcoyne and I am one of the Guardians of The Sacred Fire. I speak to you now from the fifth dimension, although I could also communicate with you from higher dimensions. Since this is our first contact, I will take on my lowest vibration to make it easier for you to understand me.
Even though I am a guardian of the Sacred Flame, there is no need to guard The Flame from danger in our world as no one here would damage anything. Beings on the fifth dimension know that any action affects them as much as those around them. Therefore, I do not exactly guard the Fire. It would be more correct to say that I assist those who wish to enter it.
The Sacred Fire is a porthole through which anyone in fifth dimensional form, or consciousness, can pass so that they can travel to anywhere in the Multiverse. When fifth dimensional beings feel that they have completed the reality that they are experiencing, they transmute that body back into its higher dimensional form, and they are returned to pure Spirit in order to learn their "in-between" lessons.
On the other hand, if they wishes to travel to another dimension or location, but they wish to return to their present reality at the end of their journey, they project their essence into The Sacred Fire. They can then travel in their consciousness to anywhere they wish. Their fifth dimensional body will be cared for here while their consciousness is traveling. I am one of those who oversee that process. Therefore, I guess it would be better to say that I guard the body of the traveler rather than The Flame. However, our title is Keeper of the Flame.
You, my dear, have contacted me because I am open to communications with those from other dimensions, and because I know you. Actually, I know Kepier, your Arcturian/human future self. Kepier and I are actually related. Arcturus is a great mystical center, and many who wish to be seers and healers will travel there to study and grow. Kepier is an intergalactic communicator. This is why you have always had such a strong urge to reach beyond your mundane world. Indeed, when you merge with that portion of yourself, you will be able to communicate with any species that you wish. You do see how your entire life has been in preparation for that, do you not? The merging of your alternate, higher dimensional selves begin with your communication with them, one at a time.
Yes, you see Kepier with me now, do you not? We are sisters in the Light. I have studied on Arcturus and she has studied on Alycone. My dear, take a moment of your "time" now to realize how it feels to be able to move from galaxy to galaxy with less effort that it takes you to drive to the grocery store on your three dimensional world. Kepier is appearing very female here even though she is androgynous because the vibration of our planet is so feminine. When she is on Arcturus, she appears very different. She looks like the "star people" that you have seen when you communicate with IlliaEm.
I will now tell you some things about our life here and about the photon belt, as I can see that those questions in your mind. Our life here is as you have read. We live very simply in large, open, central homes and smaller sleeping\meditation quarters. The time for sleeping is not as in it is on Earth. Here we remain totally consciousness, but it is better if we are alone, as we go deeply into our consciousness to integrate what we have learned and to expand our awareness. We also use these quarters for merging with our mates, if we have chosen to take on a gender. Some here wish to live with their Divine Complements as man and woman, and others wish to integrate their two components and live as one androgynous being. It is purely a matter of choice on this dimension. On higher dimensions, the division of genders is unknown.
We receive our young from The Flame as is done on fifth dimensional Venus, but some still wish to have the experience of pregnancy and child birth. When I say we receive our young from the Flame, I mean that we—a male and female Divine Compliment couple, or we—one androgynous being—meditate and train for what would be years of your time to prepare for the great honor of being a parent. Only couples that are Divine Compliments parent together. When our teachers have told us that our vibration has reached a beautiful silver-violet shade, we go into The Flame with our Divine Complement (or as a unified androgynous being) and call into the higher dimensions to see if a Spirit wishes to take a life in our world.
Once a Spirit has decided to choose the experience of incarnation into the fifth dimension of Pleiades, the parents and Spirit together determine if it is best to remain in the Flame until the Spirit is ready to take a life here, or for the Spirit will enter into the female and go through a pregnancy, much like on your Earth. Here, however, the male and female are equally involved in the pregnancy.
If there is a male/female couple, the male must move in and out of the Flame regularly so that the Spirit can pull down enough of its essence to create a fifth dimensional life. On the other hand, the female must stay away from the Flame as she is the grounding force for the new life. When the male returns from the Flame, he places his hands on the woman's womb to give the fetus a rejuvenation of its true essence. In this manner, the Spirit can slowly and gradually lower its vibration to our dimension.
If a "pregnancy" is not chosen, the couple, or the androgynous being must live near, and move in and out of, the Flame until the Spirit is ready to create itself a fifth dimensional form. Once the Spirit is a "child" he, she, or an androgynous self (children can be born androgynous here), will move with the parent, or parents, to the Central Living Room.
The Central Living Room is the living area where our "greater family" lives. The word we use for this room is difficult to hear in English. It sounds like scrdala. The scrdala is comprised of members of the same Oversoul. On the seventh dimension, the Oversoul is one being. It then fragments itself into other beings in the sixth dimension. Each of theses fragments then fragment again into other beings in the fifth dimension. The members of the "great family" are then actually more than family. They are One Being represented by different expressions of its self.
Many of the choices of a living situation differ with the frequency to which one vibrates. A being that is able to be awake on many different vibrations at once, such as me, will have very different situations on each plane. This is much like your situation. On the third dimension, you live a quiet, private life in California, USA. On the fourth dimension, you live in Faerie with your beloved fairies and Nature creatures.
On the fifth dimension you are me! Yes, dear, you and I are ONE. We are different expressions of the same Oversoul, the same Being. Kepier is another expression of our being. IlliaEm is the higher dimensional expression of our Oversoul, as is the Arcturian Group Mind. There are also many other expressions of our Oversoul that you have not yetbmet, however, you soon will. It is this way for ALL the grounded ones on Earth. ALL of you have octaves and octaves of your SELF that is expressed in myriad times, worlds, and dimensions. All of your consciousnesses have split off into many dimensional realities in preparation for the grounding of the fifth dimension upon your planet.
I can see the question in your mind: Do these different portions of my SELF meet? The answer is of course! Are we not doing that now? However, each "Self" is also a different reality, much like the different realities you have experienced and remembered in your third dimensional incarnations. These portions of your total SELF are separated by time and space. On the other dimensions, the different Selves, or realities, are separated by vibration/dimension.
You see how Kepier and I are standing side by side, do you not? And, you have met Kepier and me individually. You have also met the different portions of your third dimensional self, known on your world as "past lives" or "parallel lives." Each reality, or life, is separate until you are able to become conscious of it, than it is a portion of the whole. Your perception of the "whole" increases as your consciousness expands. Furthermore, each component of your SELF "feels" individual within the unity of your multidimensional SELF. We often wish to keep our "fragments" individuated so that we can explore each reality with more depth and intimacy. I, Mytria, am able to raise my vibration to the seventh dimension where I can communicate with all the other aspects of our SELF.
From the seventh dimensional Oversoul, we can perceive all of our lower dimensional selves within the ONE moment while maintaining the essence of the "individual" essence of each reality. I know that this sounds impossible to your third dimensional mind, but it is indeed quite natural for your Oversoul. Each of us is individual and each of us is the "One SELF." When you are beyond time and space, this is possible.
I wish now to answer your thought about why you could not communicate with me before now. Your connection to me was difficult to feel because it came from the fifth dimension and you are in the process of raising your resonant vibration to be receptive to my resonance. If you were to communicate with me before this time, it would have been too confusing to you. Do you see how much difficulty you had with some of the concepts that I have presented to you today?
It is good that you are stretching your imagination and consciousness to embrace what will soon come about in your world. Most of all, the Goddess, Mother Earth, Gaia is awakening. She will soon hear the mating call of Her Divine Complement and will no longer tolerate any injustice to Her being. She will be like a bride preparing for her wedding. She will be making herself beautiful, and anyone who tries to stop Her will not enjoy the consequences. (This was received in 1995. That "time" that Mytria speaks of is NOW)
It will be a wonderful time. You, and others like you, will at last be happy to be born on Earth of a third dimensional form, as you will feel the higher vibrations of the fourth and fifth dimension in your atmosphere. It will then be your task to learn to totally Love life on the third dimension so that you will be able to release it.
You will not need to release your physical form, of course, but you will release all of its limitations and separations. Your physical body will be like the car you drive on Earth, it will hold your consciousness. When you wish a new, improved "vehicle" for your consciousness, you will easily replace the old one. Only, you will NOT have to take out a loan. You will create, free and clear, the vehicle of your choice.
Please join me in my Violet Temple so that you may begin your process allowing your fifth dimensional Soul to be the Captain of your earth vessel. By "downloading" and integrating your fifth dimensional SELVES into your third and fourth dimensional vehicles, you will slowly transmute your physical, carbon based body into a body of light. Your Lightbody is already within you. You do not need to earn it; you only need to awaken to it.
From the Pleiades,
I AM Mytria