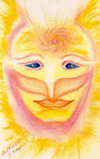 Beloved One,
We call you with our hearts. Welcome Home, we are preparing a celebration in your honor. Yes, you! Do not look around for the one to whom we speak. We speak to you—YOU, the one who will listen. We have long awaited the return of our kin who have so bravely served upon the Great Mother. Your time of homecoming is nigh. Do not doubt, nor fear for we have taken you into our vibration. There is no way in which you can get lost now. Just relax into our lure. We are bringing you Home.
Remember the violet trees that sway in the ether of the yellow sky? See the colors that emanate from each leaf and hear the melodies they create as they mingle with the breeze. Feel the warm glow of life as it welcomes your arrival. All that holds form here is aware and communicates. Even the Formless Ones embrace your Soul and free you of ALL limitations. Feel how you are united with all life and how all of life is united with you.
Remember now as an adult, what you knew as a child.
Home is not a place; it is a state of consciousness.
Relax now, my one, enjoy the journey.
You are going HOME and
HOME is where you've always been.
It is the completion of Kundalini's journey into the crown chakra, and the subsequent opening of our Third Eye, that has allowed us to begin the conscious recognition of our true, multidimensional nature. Therefore, we will begin with the seventh chakra and the transformation that occurs as Kundalini joins her Divine Complement, in our crown.
It is at this "time" that we too become aware of,
and merge with, our Divine Complement.