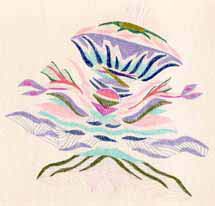 JOY
Can I find joy in daily life,
release the struggle and the strife?
Can I escape the lifelong fight
to find pure peace, and live in light?
Then hope could grow to hold my dreams
and sew them up in Spirit's seams.
Could it be it is that easy?
Then life would be all bright and breezy!
NO! Fear would return to block the way
and stop me from that brighter day.
So, I must release the past.
Take fear from first, and make it last.
For what begins, does end some day
to make room for another way.
Since this fear had a beginning
was there a time when love was winning?
For fear too long has been the one
who's won the battle – when all is done.
So I must search both, day and night
to place ALL fear into the light.
I'll find it while it's just a worry,
before it makes my reason blurry.
Then, surround that fear with Spirit's light
until it's lost its awesome might.
And when that fear's become too small
to bring more struggle, or cause my fall.
I'll forgive it for the strife it's brought
till it becomes the joy I've sought.
I'll continue with this transformation
till I've found my new foundation.
For all my fear once had a reason,
that must be cleared in each new season.
Then the struggle and the strife
shall find no hold within my life.
And all the dreams my hope's held tight,
shall blossom in expanding light.
When I go, to what is waiting
there'll be no fear and no debating.
The day this path comes to an end
there is a message I will send:
"I will continue, as must you.
When the door Home opens
we must walk through."