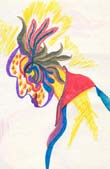 No need to lie
nor to pretend,
the beginning has
become the end.
The end of all
that lies between
so far away
and what is seen.
Hold me tight
within your mind
till you "IN" I
are of one kind.
The blending of
the future's NOW
will lead the way
and show me how.
I lay my heart
upon your door,
I release it all
till there's no more.
Please take me then
into the life
that's free from work
and daily strife.
I give you all
my darkest traits,
release my fears,
redeem my hates.
I ease my fist
to take your hand
and walk into
your peaceful land.
As your door opens
so does my heart
and at this ending
new life does start.