Surrender now to the feeling of Unconditional Love within. Surrender now to the worlds and realities that have always been within. As we stand at the threshold of our SELF it takes just one leap of faith to Surrender to Soul.
Learning to live in surrender, surrender to our Soul, is how we allow our highest consciousness to enter in and be Captain of our physical earth vessel. Our ego may put up a battle for life, but if we can relegate it to the task of Chief Engineer in charge of care and maintenance of our Vessel, it can accept its demotion graciously.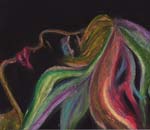 SURRENDER
To come alive to peace and calm
and open up my heart.
To look into another
and know them from the start.
For all of time within the Now,
the world a speck of light.
The journey is returning,
my wings have taken flight.
To know the door and have the key
to set my spirit free.
I lay my hand upon the Earth,
the Mother speaks to me,
"My lover now is coming.
We're joining into One.
You shall become a planet.
I shall become a Sun."
For as we all surrender
to something yet unknown,
the questions will be answered
the pathways will be shown.
I surrender to the moment.
I surrender to the day.
I surrender to the reason
and surrender to the way.
For living in surrender
I have no need to hide,
no ego to get wounded,
no damage to my pride.
Completion is a promise,
understanding builds a trust,
to live within my Soul's desire
and see the world as just.
The dark, the light, the love, the hate
are joined into the One.
In love and sweet forgiveness,
the experiment is done.