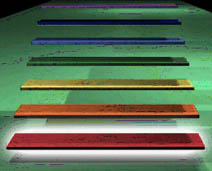 Excerpts from
SEVEN STEPS TO SOUL
The seven sections of this book represent the seven chakras. The awakening of our chakras and the rise of the Kundalini is the process that aligns us with our Soul. When we are aligned with our Soul, we can begin to surrender to its guidance and to its habitation of our physical body.
Shortly after our Soul enters our body at birth we begin to forget our higher Self. However, our inner child holds that secret for us until we are ready to remember. But why do we forget? Most of us are taught to forget by the people in our world who no longer remember.
Often, we forget because of painful events that are too great for a child to bear, but in the process of forgetting, we often lose the happy memories as well. We also forget because our emotional reactions to the world around us blur our experiences and in turn blur the memory of our experiences. Just like low frequencies mask out high frequencies, pain and fear can mask out love.
However, if we can learn to hear and express our emotions without judgment or criticism of ourselves, we can release the pain and fear that covers love and lessens our ability to accept it. Learning to be honest with, accepting of, and loving to ourselves can take years.
Most of us have learned in our childhoods that it is not safe to be completely open and honest. Too often fear taught us to judge rather than to accept. These judgments make it difficult to love ourselves and to love others.
Our Self is the portion of our consciousness that has NOT fallen into fear, criticism, and judgment. When we can become our Self, we can regain our conscious connection with our Soul. This journey begins with remembering the treasures of our childhood that are hidden beneath the pain.
CHILDHOOD
A Life Begins and Soon Forgets
She saw the first step before her. It seemed very familiar, like something from her childhood. Yes, that was it; this was the first step on the staircase that leads to her Grandmother's house. Something had happened by these stairs because for years and years she had a recurring dream. In this dream, she was lost. She had wandered around trying to find her way until, at last, she could go no further. Then, she would see the stairs leading to Grandma's front porch. But did she climb them? No! Instead, she lay down on the sloping lawn next to the stairway and went to sleep-went to sleep in her dream. Why she never climbed the stairs to receive from her Grandmother the comfort that she needed, she did not know.
Perhaps, she wasn't ready yet.

THE FIRST CHAKRA AND CHILDHOOD
The first chakra represents our survival consciousness. We first learned to survive when we were children. We had to learn to adapt to our environment-no matter what. Often we used survival mechanisms that functioned like training wheels to assist us during times when we could find no better way to adapt to the world around us. These "training wheels" worked while we were children, but what held us up as children, holds us back as adults. If we can explore our childhood from our adult perspective, we can begin to release what is no longer needed and remember what we lost.
REMEMBERING CHILDHOOD
Remembering our childhood allows us to regain the memory of our multidimensional self that we lost as we "grew up". Our memories of Home in the higher dimensions became dimmer and dimmer as we tried to make a home in our physical world and physical body.
Our first chakra represents our first impressions of life. These impressions became the basis of our beliefs. In turn, our beliefs directed our expectations to perceive a world that was consistent with the world we were trained to experience. In this way we felt safe because we feel like we fit more into our world.
Therefore, bit-by-bit, the UNLIMITED knowledge that was of the higher worlds was constricted into knowledge of the LIMITED physical world. Unfortunately, far too often our physical world was filled with fear. The fear that we experienced as a child walled us off from the love that is innate within our Soul. Our Soul became the portion of ourselves that we forgot a little bit more each day.
CHILDHOOD
The small child longed to go Home,
but she did not know the way.
She could remember the sights
and fields of Home and
she could remember her wonderful friends.
She was lonely here,
in this strange and barren land.
She longed so to face the presence
of all that was Home –
True love,
Complete Acceptance,
Divine Beauty,
and Total Union with all life.
Here she felt separate.
There were great walls dividing
each portion of life.
And there was a smaller wall around her.
When she first came to this place
she was afraid.
She did not understand these
strange people or their strange ways.
Flowers, trees, and animals
did not speak to her.
And if she tried to speak to them,
others laughed.
Therefore, she began to build
a wall around her.
With every laugh and
every condemning thought
a new brick was laid.
She could no longer speak to her
plant and animal friends,
no matter how hard she tried.
The wall became so heavy and high that
she could barely see the sun
or feel the breeze
or view the world around her.
Then she decided that it was time
for the wall to come down.
Even if they laughed,
she could feel the sun.
Even if they condemned her,
she could see the flowers.
So she began.
Brick by brick the wall was crumbling.
At first, it was very difficult.
The bricks were cemented fast,
and it took great effort to
remove even one.
However, the bricks were
somehow connected and
as one was released
the others were weakened.
With the release of each brick,
the process became easier and easier.
As the wall became smaller
the sun was brighter
and the breeze more refreshing.
She had forgotten that
the world was pretty after all.
She had not realized that
for every one who laughed —
there was someone else who cared.
She had not realized that —
if she ignored the ridicule of others,
she could then hear the plants and animals
hungrily returning her call.
As she gained the courage
to begin removing her wall,
she gained the courage to face
that which was behind it.
Eventually, the wall
seemed very small.
Or, perhaps she had grown.
It had seemed that,
as she removed each brick,
she had grown taller.
She wasn't sure of this, of course.
It had just seemed that way.
In fact, she wasn't sure of much.
She only knew that life was better.
She did not know what would happen
when all the bricks were gone.
But she did know
that fear had built the wall
and only LOVE
could totally remove it!
TAKING CHILDHOOD'S GIFT
Our childhood memories of the higher worlds are a gift that we may choose to deny. We have become very comfortable with our perceptions of limitations and separation, which function like a fence to separate us from our fear. However, no fence is high enough or strong enough to ward off the fear that lives inside. The only protection against this fear is love, love for our selves. Love is the ultimate present that we ALL deserve and we CAN accept.
THE PRESENT
The small child very much wanted the
brightly wrapped present.
But somehow she felt she didn't deserve it.
Each time it was given to her
she retreated in shyness and lowered her eyes.
How could that lovely prize be hers?
How could she accept it?
"Just take it," came a kindly voice.
"There are others who know more than you.
Even though you cannot see
all that has brought this to you,
know that it is yours."
The child did not understand.
But she trusted the kindly voice and
timidly reached for her prize.
But, as she touched it,
it disappeared.
"Where has it gone?"
cried the child.
"Why, it is yours now,"
said the voice.
"It is no longer something
that you must reach for.
It is something now,
which you must own."
GROWING UP
As we are "growing up", it is the impressions of others that are first imprinted into our consciousness because our parents and those who raise us define our world through their perceptions. As children we are dependent upon our parents to explain our world to us and to protect us from its dangers, but, eventually, we must take the leap to see the world though our own eyes instead of through the eyes of others. This change in perception, can feel like a death.
CHANGE
Once there was a baby bird.
He could not fly nor feed himself.
Helpless, he lay in the nest and
waited for his parents
to bring him nourishment.
Because the bird was so dependent
he grew to worship those who cared for him.
After all, without them, he would die.
However, over time,
the bird began to change.
The fluff about him began to drop away
and something else took its place.
Of course, when the bird
began to lose his fluff
he became very worried.
"What is this 'something else'?
What if this 'something else'
is not as good as my fluff?" he cried
Also, to make matters worse,
the growing bird's parents
did not come as often with food.
And, they left him alone in the nest
for what seemed like a very long time.
And now the "something else"
began to itch.
The bird wanted to shake himself
and spread his arms.
But, alas, the nest had gotten very little
and, if the bird were to move at all,
he had to stand on the very edge of it.
One day, when the nest
had gotten very small
and the bird felt very itchy,
he stretched out his arms.
Just as he did so, a gust of wind came up
and blew the terrified bird from his nest.
Oh no!
The parents were gone again
and the ground was very far away.
Surely, he would die.
Whatever could he do to save himself?
Clearly, he was alone with no one to help.
And oh, he itched so terribly.
But, at least now, he could stretch himself,
if only for a few moments.
But something happened
when the bird stretched his arms.
The very evil wind that had
blown him from his nest
seemed to catch him by the "something else"
that was hanging from his arms.
"My, this is wonderful,"
thought the bird.
"Even if my end is near, at least I can enjoy
what time I have left."
Then, just before the bird
reached the ground
he thought to look up to where he had been
and to where he would never return.
Surprisingly, as he did so,
the wind carried him in that very direction.
The bird became so very excited
that he rapidly moved his arms
with the something else hanging from them.
For the first time, he really looked at himself
and found that he was just like his parents.
"Why, these are wings," cried the bird.
"And I am flying."
So the end was really the beginning.
And, what the young bird
had thought was his death,
was really a new life.
KEEPING THE CONNECTION
Once we have regained our connection to childhood's lost secrets, we must learn to keep it. Our child can assist us in remembering our Soul, and our Soul can teach us to see the world through our own eyes instead of through the eyes of others. However, sometimes we must go far away from ourselves before we can appreciate what we have always had.
THE GOLDEN CORD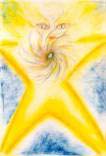 "Where are we?" said the young child to the large, golden Lightbeing who stood beside her.
"We are Home, my dear," was the simple reply.
"Is that why my heart tickles?" giggled the girl.
The golden being reached out a long arm and, with a pointed finger, touched the exact point of "tickle". The girl was than transformed into a young woman.
"Where is the child?" was her first question.
"The child is inside where she has always been," answered the golden being. "Can you feel her?"
"Yes, I think so. It feels like she is within me, but also somewhere else. I mean, she is here, but she is also playing in a beautiful field filled with flowers, butterflies, and fairies. How can that be? How can she be in two places at once?"
"You are on the fifth dimensional plane now. You can be in as many places as your mind can remember. The trick is to feel the unity of each of these realities. Feel this unity as a golden cord. Do you see where it is attached to the life-spark in your heart?"
"Yes," replied the young woman. "It feels like a deep longing for someone. But who?"
The long arm of the golden being reached out and, again with pointed finger touched the exact spot of "longing".
The young woman was no longer a woman, nor a man. She was both.
"Thank you so very much," replied the androgynous being who now stood as tall as the golden one. In fact, it was also golden.
"Your touch reminded me of who I am. I am Kepier. I am fifth dimensional as well, and I am welcoming a third dimensional portion of myself who is awakening. Her child never forgot me.
"And who am I?" asked the golden one with the sacred touch. "Can you remember me?"
Kepier looked inside, knowing that that was where all answers were found.
"You are a portion of "my self" that resonates to the sixth dimension. Are you Wolal?"
Although the being's face was barely perceptible through its beaming aura, Kepier "felt" the response of a warm smile.
Wolal wrapped itself into a whirling vortex and extended one arm.
"Touch your heart to my finger and we shall take a journey."
Kepier bent its long, lean form over to allow the tip of Wolal's finger to touch its heart and was instantly pulled into the vortex.
In the vortex there was no form, even for Kepier. Kepier saw itself as a speck of light swirling with millions of other lights. Faster and faster the vortex swirled until the million lights were One.
"Let's go down into that patch of darkness from which this light radiates," spoke Wolal.
Kepier was not sure that it wished to leave the light to explore the darkness, but it was now in total unity with Wolal. Like the finger follows the hand, Kepier followed Wolal into the darkness.
The spin of the vortex slowed as they descended. Kepier began to feel itself separate from Wolal.
At a vibration much lower than its own, Kepier could perceive the child and woman that it had just been. Kepier knew that they were other components of it's self. The child appeared to be crying about not wanting to leave Home. The woman was clearly angry because she did not want to leave either.
Then Kepier felt a pull at its heart.
The long arm of Wolal again touched Kepier's heart at the exact point of the "pull". In that place was the golden cord.
"Connect this cord through your heart. I will hold it here, as I can descend no further. Go down as far as you can and give the other end of the cord to the woman. Tell her to give it to the child."
"I will obey," replied Kepier, understanding the reason for the command.
Kepier traveled down, down, down into the darkness until the density pushed against it so that it could descend no further.
"This must be how Wolal felt when it came to touch me," Kepier spoke to itself.
The golden cord vibrated in affirmation.
Kepier smiled. Now it must find the woman.
There she was, sitting on a couch and writing in a small golden book. The woman could not see Kepier except in her imagination.
"Take this golden cord and connect it to your heart," the woman wrote upon her page. "Now give the other end to your inner child."
"Can I find my child?" the pen expressed.
The golden cord vibrated in affirmation. The woman smiled. I must descend down into the vortex as did Kepier and Wolal, wrote the woman.
The woman's imagination displayed the vortex upon her inner vision, but the darkness was not inviting.
"I must be as courageous as the other portions of myself were. I cannot abandon my child. She needs me and I greatly need her."
The woman descended into the vortex and felt an ever-growing density pushing upon her form. At last she saw a child growing smaller and smaller, younger and younger. If she did not reach the child soon she may never have been born.
When at last the woman reached the child who was quickly moving backwards in time, the child was an infant just leaving her mother's womb.
"Quick, grab this golden cord and attach it to your heart," spoke the woman to the newborn.
The infant was partially through the birth canal extending a tiny bloody arm. The tip of her finger touched the tip of the golden cord.
Within that moment of contact, a blaze of light filled the delivery room.
Time stood still.
The infant's form was frozen in time with an outstretched arm touching the tip of a golden cord that only she could see.
Gradually, the light took on a vaguely human form. It was not a body though.
It was a Soul. The infant's Soul.
The Soul took the cord that the infant had chosen to touch and connected it to the small beating heart.
"Now," beamed the Soul,
"You shall never forget
who you really are!"