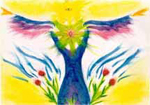 Arise my ones, do hear my call.
The time has come for one and all.to hear my plea, to know my name.
I am the Goddess of this Earth plane.

From high above our earth's vibrations
there is assistance to save our nations.

Listen now and do not fear.
The answers are for those who hear.

And now, my ones, the time is nigh.
The Goddess needs you, hear my cry.

For those who don't I cannot save.
One is the master or the slave.

The time has come to pick which side.
One can no longer run nor hide.

The Truth is now. The Power's here.
Do you follow Love or follow Fear?

Against my form no longer sin.
This is the chance to begin again.

I'll wash my surface clear of mire.
For of the greed I now do tire.

Hear my call and join my force.
Arise my One,

NOW – make this choice!
I, the Goddess, am as indestructible as I am infinite. I weary of this low vibration and do not wish to be limited to it much longer. For eons, I have held this vibratory rate, slowly growing denser and denser as my inhabitants have fallen deeper and deeper into their forgetfulness.
Now, I will raise my Heart to its highest form, and I wish my children to join me. But I can't wait much longer. The moment is coming! I need all of you to focus your attention in that direction. It is time that you remember who you are and accept the full power of that awareness. Listen to me at regular intervals and I shall give you direct messages.
The Goddess of Earth