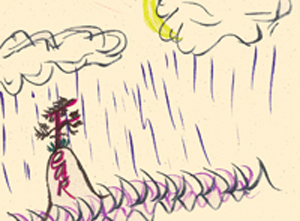 Shame, shame
I know your name.
Whatever the reason,
you're always the same.
You make me feel
like I am less.
You hold me back
and cause me stress.
Down deep inside me
you do hide
behind my fear,
beside my pride.
You tell me
not to try again.
You say I don't
deserve to win.
"I am your friend.
Hold back," you say.
"They'll soon find out
so just don't play."
But who are "they"?
What will they know?
What is it that
I must not show?
When you say I'm bad
and don't deserve,
it is your power
that you preserve.
The power of
my hidden shame
to hold me back,
that is your game.
But I won't play,
not any more.
You've won so far.
I've kept the score.
I don't believe
I should hold back.
I don't believe
I have this lack.
I know you grew
inside my mind.
The cause of this
I must now find.
Then send you out,
outside my life.
Purge your conflict,
release your strife.
When did I take
the shame you give?
I'll find that day
you started to live.
Then love that me
who took you in
and tell it,
"No, you did not sin.
"You were a child
and knew no better.
You learned that shame,
down to the letter.
"Now give it back.
It's a mistake.
Its someone else's
shame you take.
"Dear child, I love you
you are a wonder.
Let no one pull
your dreams asunder.
"I welcome all
you have to say
and know that you
will show the way.
"The way to life
that's filled with glory.
I listen now,
please tell your story."