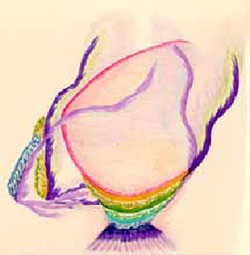 WITHIN THIS MOMENT
For all of my life
I have awaited this moment.
Within this moment
I AM creation.
Within this moment
I AM free.
Can I allow this moment
to nest in my heart
and guard it with my
unconditional love
and forgiveness?
Can I now be who
I have always been—but forgot?
Can I remember
the song of creation
and my own cry for life?
A life in which I can learn
to remember.
A life in which I can return
without leaving.
"Yes,"
I cry from the core of my being.
"I create all the knowing
and I live all the seeing."
Creativity ~ Becoming a Vessel of Light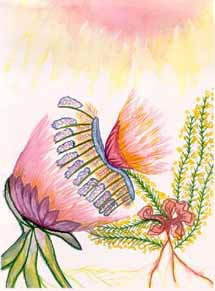 When love has healed our past and calmed our thoughts and emotions, renewed hope enters our awareness. Creativity can then enter our life, and we can begin to free the shackles of limitation that were taken on during a life of separation from our SELF. If we can open up our hearts and minds, we can allow the light of a new beginning to take root in our consciousness and enhance our creative potential.
However, first we must confront our fear of judgment, from others and from ourselves, so that we can be the vessel of light that has always been our Destiny. To do that, however, we must be willing to change, and, in order to change, we must face the unknown. It is through facing the unknown that we are forced to call upon our innate, inner reserves of creative power. Fortunately, our growing relationship with our SELF can direct and guide us through the chaos that precedes creative transition.
TAKING THE FIFTH STEP
We see the fifth step before us, but we can't recognize the stairway, as it flickers in and out of our reality, just like our creative power. Our urge to be creative tried to take hold when we were a child, but it was somehow lost as we "grew up." Finally, the vision of the stairway becomes clear and constant. These are the stairs leading to our first spiritual mentor.
Of course, for spirituality and creativity are both expressions of our inner light.
Personal History, Fifth Step
Fifth Chakra
TIME FRAME 1988-1992
The fifth chakra governs creativity and I had lots of space, as my new home was much larger than my old one. Also, I had brought only the best of my furniture. I was to live here with the children another year before my husband returned to work again in Los Angeles, but he loved the house as much as I did.
SPIRITUAL LIFE
Along with my new home I gained a new spiritual teacher. I was introduced to him through one of my mentors at school who had helped me greatly in learning to control the rush of psychic abilities that were freed when I cleared my emotions.
This new teacher taught the pathway to Soul and introduced me to a whole new network of inner Guides with whom I could communicate. I had gained a degree of mastery over my emotions when my SELF cleared my second chakra and a degree of mastery over my thoughts with the clearing of my third chakra. Also, the opening of my heart chakra allowed me to live in a higher octave of the love vibration. Therefore, I could communicate more easily and clearly with higher and higher dimensions.
Upon each of the planes of the fourth dimension there are Mystery Temples where I would go during sleep and in meditation to learn. I voraciously read all the information that this path offered and integrated the lessons into my own consciousness by writing short stories. However, when I met my new teacher, an old pattern returned. As with all of the spiritual teachers I had had, I placed them upon a pedestal of perfection.
Then when I realized that, no matter how high they were spiritually, they were still human and had problems like the rest of us, they would crash from their pedestals and I would be disillusioned. The reality is, I was still trying to escape the third dimension and all of its inherent problems and weaknesses. I was still seeking the perfect place where I could hide from the challenges of a polarized reality. CAREER LIFE
During the opening of my fifth chakra, my careers blossomed. I gained more and more psychotherapy clients while my audiology practice remained constant. I had money, lots of it, but I also had debts, lots of them. My journey of self-discovery continued, and as I taught others, I learned more about myself. I settled into a comfortable pattern and stayed there until a little voice whispered in my ear, "You haven't made a change for a long time."
PERSONAL LIFE
My daughter went off to college the same year that my husband came back to Los Angeles. Then, we had only one teen at home. I worked hard, but I had time to go to my son's athletic events, take art classes and travel. Then, one day I looked in the mirror and realized that facing my depression, having my depression, had been fattening. With the depression pretty well managed and my thyroid gland activated by my SELF clearing the fifth chakra, I was able to lose weight and keep it off—until menopause.
However, my body had more to say about the stress of ten years of hard work. What it had to say was, "When you are asleep, you express your stress by grinding your teeth. When you grind your teeth, you crack them. When you crack them, eventually you get an abscess."
Nothing I had experienced was as painful as an abscessed tooth. And I had two of them. One abscess flared during a thirteen-hour international plane flight. There was nothing I could do but take Tylenol and hold an ice pack to my face. The other abscess pestered me for months; I was saving money and being in denial. Eventually, one morning at 1:30 AM the pain was unbearable, and I put in an emergency call to my dentist. "Take it out," I cried. "Don't try to save it, just take it out. I can't stand the pain."
With both painful experiences, my "imagination" kept projecting a scene of myself in some ancient time telling a secret which I had vowed to keep. It seems that many others suffered from my action. My memory also raced through time after time when I was unable to allow my true SELF to be expressed. I felt the inner pain of squelching my pure creative force for fear that I would be judged. And who was my greatest critic? Me!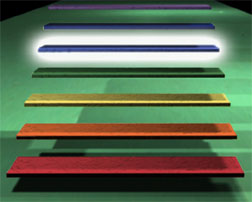 FINAL INITIATION OF THE FIFTH STEP
What did the pain mean? Hadn't I already released my inner pain? The answer was NO. Becoming a spiritual being does not mean that you cease being human. The spiritual path is not an escape. It is not a recipe for perfection. The spiritual path is a commitment to face all of your self so that you can FEEL all of your self, even if it hurts. Then, and only then can you learn to love ALL of your self?
My final initiation was to learn that until I could love my self, I could not creatively express my SELF. I could assist others by giving service, listening and communicating intimately—about them. But I could not release the creative force that was ME. I was afraid. I was afraid that THEY would judge me. Unfortunately, the "they" that had once been outside of me had taken permanent residence inside my head. It was the pain that made me realize that fact.
In some parallel reality/past life I had "let my truth out," but I had done so in a manner that had hurt many others. I had suffered greatly for that mistake, and brought it with me into this life. I had to live my childhood in an environment where I was different and not quite "good enough." I learned very young to keep my SELF a secret. Now, I was longing to express that hidden SELF so intensely that it hurt.
I had been journaling since the early eighties, and it had been slowly evolving to short stories and poems. It was in 1992 that the dam burst. I was leaving for Kauai, Hawaii the following day and looking for a journal to pack. I found an old one that had the beginnings of a story, which I believed to be a past life. I read the first paragraph and thought to add a sentence or two. Well, hours later I put the pen down.
For the entire vacation, story after story—life after life, came through like a storm. As I furiously wrote my stories, I deeply, intimately FELT all the emotions. I lived and relived the people on the page. I wrote, painted, lay on the beach and swam in the warm ocean. One day while swimming, I decreed that these stories would one day be a book. I called to my SELF to give me the diligence to complete my task and the courage to present my creation when the task was completed. That book is Visions from Venus. I started writing it in 1992 and self-published it in 2001. For my final initiation I learned that the core of creativity is PATIENCE.
THE FIFTH PILLAR OF LIGHT

We want to step onto the fifth step, but something stops us. It seems innocent enough. But somehow, we can't move towards it. There is always something else we have to do, or think. We can't forget the fifth pillar, but we can't confront it either. We know that there is something inside that crystal that we deeply want, but we are afraid that we may actually get it.
Well, we have run out of excuses and reasons. Now it is time to look inside. Slowly and tentatively we walk to the edge of the pillar. We notice that the closer we get, the taller the pillar appears to become. By the time we are close enough to look into the crystal atop it, we have to stand on our tiptoes in order to see inside of it.
As we peer into the crystal, we see nothing, but we hear a soft melody. The tone is as clear as a flute and as free as a bird. The melody strikes a resonant cord deep within us of something long forgotten yet still familiar. Pictures and memories flash across our mind as the melody floats in and out of our perception.
The tone alters our consciousness, and the melody draws us in. At first we resist, but gradually, we relax and allow the melody to lift us up above our constraints and limitations and carry us like a feather in the wind.
We discover that if we surrender to the melody, we can soar high like a bird. We even find our wings hidden deep within our heart. We spread them wide and flap them freely as we float on the current of sound.
We see a ball of radiant light rising just above the horizon. The warmth of it entices us, and the power of it frightens us, but we are riding the current and cannot deviate from our course. We are on a journey beyond our control that is directed from some unknown place deep within our SELF, deep within our Soul.
As the light comes closer, the tone becomes louder. The very atmosphere pulsates with light and vibrates with sound. It is becoming increasingly difficult to fly through the turbulence, but we find it impossible to alter our route in any way. Furthermore, we are losing all sense of boundaries. Everything, including us, is becoming a blur. However, the tone remains clear and the source of light a strong magnet that pulls us deeper and deeper into its center.
There is something there that is ours—that is our SELF. We can feel it approaching. The tone grows almost unbearably loud until we can no longer hear it, as we have become the tone. We experience our SELF without form. We are a formless Being of light and sound. We embrace the many colors of our light and dance with the melody of our sound.
Now we know the gift within the ball of light. It is our creative potential—pure and infinite. It is the potential to create and to be created, potential to BE the light and BE the sound.
Our journey stops suddenly and all is still. We are in the Center, the eye of the hurricane. The light is there, but only as a potential. The sound is there, but only as a potential. The stillness is infinite. All about us is nothing, yet potentially everything. WE are nothing and potentially everything. The calm is complete, the stillness absolute. Time and space cease to exist. Memory and cognition are gone. Emotions are impossible. This is calmer than the void, softer than the light, quieter than the sound. We become the stillness and become the potential.
Gradually, the stillness becomes a whisper and the light a flicker. The awaking melody catches our wings, and we begin to fly again. We are returning now. We do not know to where or to what, but the potentials are infinite!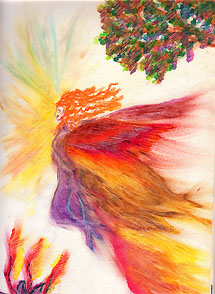 Hear Faerie Night, performed by Jacqui Callis

FAERIE NIGHT
In Faerie night the land is far
The home of all is on a star
The moon is bright, but gives no light
Because it hides the Ones from sight
To look upon a fairy's play
Will mean you see not one more day
Their secret is now kept within
A veil of darkness oh so thin
And, if you wish to pierce this veil,
On a moonbeam ever shall you sail
The fairies guard your secret life
That can't withstand a world of strife
But, in that realm your light does hide
You keep it there, deep down inside
Dare you risk that others know
This light within, and let it show?
Show the fairies, show their play
Release your fear and pave the way
The way to know and see around
Another world that does abound.
From the corner of a young child's eye,
Its always there – its not a lie.
Could it be safe to say its real?
Bu,t if you do, will you break a seal?
A seal between the life that hides
And the life outside that rants and cries
You can't hold back, not one more day
For of this place, you now must now say,
"I release all secrets and hold them bright.
I show the world my inner light."