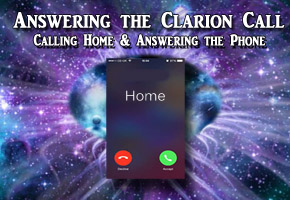 Join Dr. Suzanne Lie, Ph.D. and the Arcturians in the event, Answering the Clarion Call: Calling Home and Answering the Phone, which is a 2-session webinar series (1.5 hours each) featuring hands-on, experiential workshops where you will learn and adopt practical methods to connect to your higher guidance as you expand your consciousness to build a strong, two-way system of communication with Home.
 Some of the most common questions asked by awakening ones include, "Who am I?", "Where am I from?", and "Why am I here?"
The clarion call has been sent out to each of us, and it is time to build the connection to Home so we can receive clear answers to these questions.
Once connected, your higher guidance will offer consistent support to enable you to become fully engaged in fulfilling your individual and collective missions.
Calling Home—find how YOU ground, document and share your messages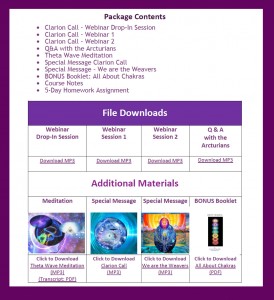 Answering the Phone—find how YOU put all your messages into action
Join us as we actively answer the clarion call in a personal and unified way!
A 2-Part Webinar Series with Suzanne Lie, Ph.D. and Shawnna Donop, M.B.A. with a bonus drop-in session to kick start the series.
Package Contents (See Table of Contents at the right>)
·       Clarion Call – Webinar Drop-In Session (Fun preparation!)
·       Clarion Call – Webinar 1
·       Clarion Call – Webinar 2
·       Q&A with the Arcturians
·       Theta Wave Meditation
·       Special Message ~ Clarion Call
·       Special Message ~ We are the Weavers
·       BONUS Booklet: All About Chakras
·       Comprehensive Course Notes
·       5-Day Homework Assignment
Click the "Buy Now" link to purchase the package for $35.00, and you will receive a link to download the full package once you complete your transaction.  You will also receive the download link in your PayPal email inbox.